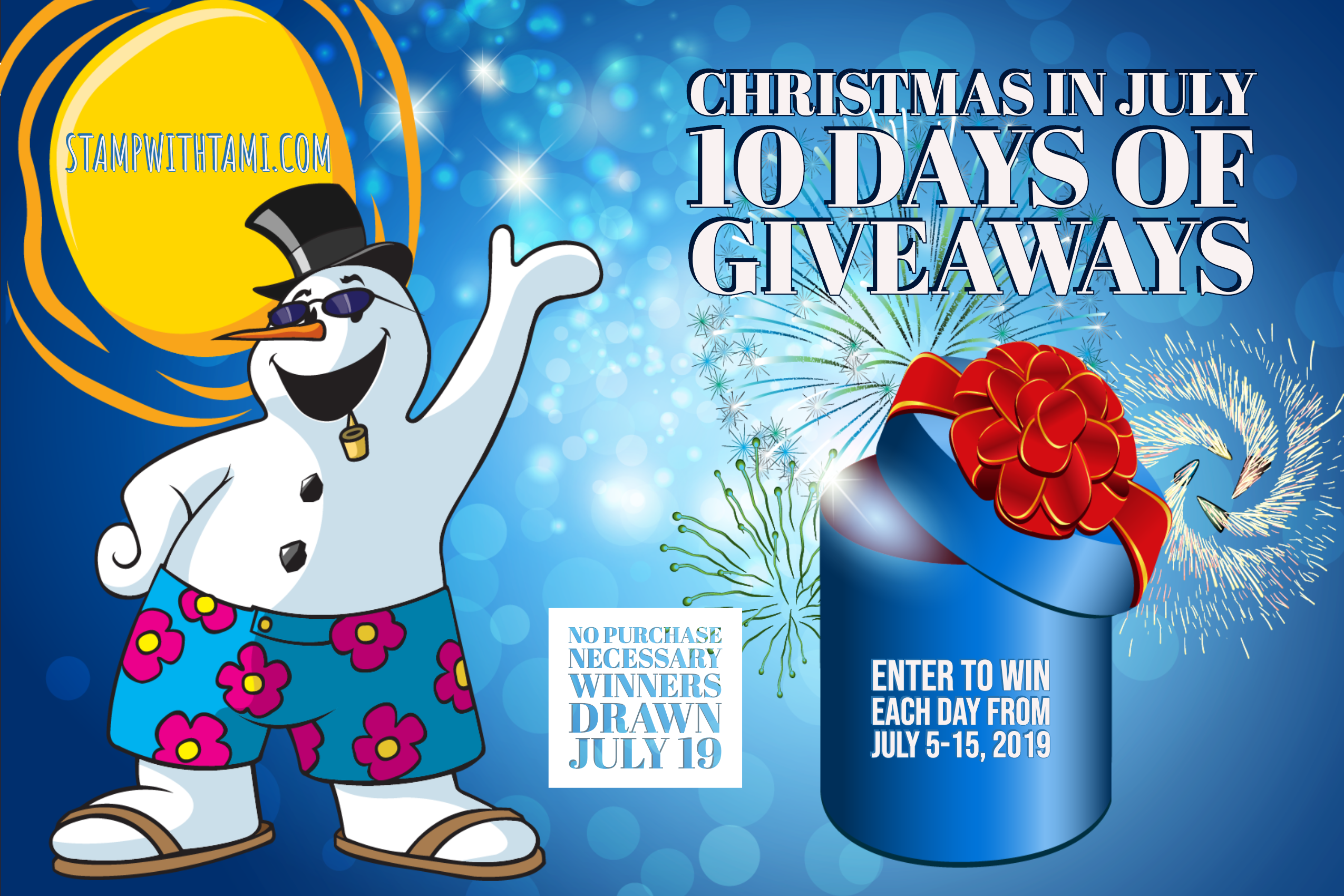 WINNERS REVEAL
The past 10 days I've been throwing a party for you and celebrating earning Stampin' Up!'s incentive trip to the Greek Isles! The party is called my Christmas in July – 10 Days of Giveaways". Each day for a giveaway.
Visit my Christmas in July 2019 Headquarters.
Today I'll be drawing all winners live on Facebook at 5pm EST, here's the fine print:

Winners will be drawn randomly via computer generator.
1 Prize per person. If a duplicate name is randomly drawn twice, the person will win the 1st prize, and I will re-draw a new name for the 2nd prize.
Prizes must be shipped within the United States
Winners have 2 weeks to claim their prize
I will redraw new winners for unclaimed prizes on August 31
Winners announced here an in my weekly Newsletter and  Winners Page.
PRIZES & WINNERS
Angela Copenhagen – Day 1 Stampin Up Logo Collapsible Scrap Bin
Joni Arcocha – Day 2 Looking Up Card Kit
Perry Payne – Day 3 2019-21 In Color Collection Bundle
Cathey Moller – Day 4 Cuckoo for You Bundle
Alyse Davidson – Day 5 Mega Embellishment Bundle
Christine Renee Dalton – Day 5 Mega Embellishment Bundle
Lisa Magyar – Day 6 Capture the Good Stamp Set
Susan Tipton – Day 6 Capture the Good Stamp Set
Sheri Bolte – Day 7 Mega Tool & More Bundle
Melanie Simpkins – Day 7 Mega Tool & More Bundle
Bernie Wyzykowski – Day 8 Ride with Me Bundle
Patricia Neal – Day 9 Stampin Up Logo Floral Tool Case
Amy Cooley – Day 9 Stampin Up Logo Floral Tool Case
Sharon Purkey – Day 10 Stampin Up Logo Tote and It Starts w/ Art Bundle
Charlotte Hammond – Bonus Day See a Silhouette Suite
---
TAMI'S SPECIALS
---
TAMI'S SPECIALS
November 18-30
---