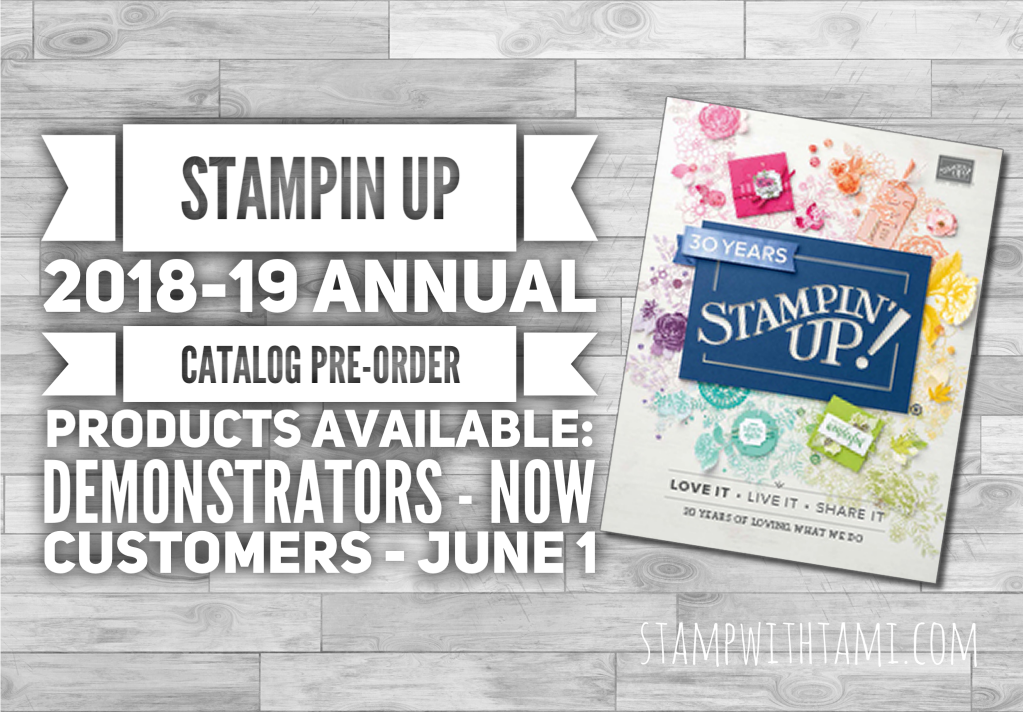 PRE-ORDER FROM THE NEW CATALOG
May 2-31, 2018
See the New Annual Catalog Preorder Products!
Stampin Up demonstrators can now pre-order brand-new products from the 2018-19 annual catalog! Customers will be able to order these products beginning June 1 (or can get them now in the demo kit).
How do I get my new catalog?
I have dates and details on the new catalog below on when catalog ship and how to get your hard copy.
I'm hosting a new catalog card swap. You can get details and links to join here.
NEW CATALOG REVEAL VIDEOS & DETAILS
Check out my video series on the new catalog, sneak peeks, new colors, new inks and more….
PART 1 NEW CATALOG DETAILS: NEW COLOR REVAMP & NEW INK PADS

PART 2 NEW CATALOG DETAILS: MEGA SNEAK PEEK
A FEW CARD SNEAK PEEKS OF WHAT'S COMING IN THE NEW CATALOG
[Best_Wordpress_Gallery id="57″ gal_title="2018-05-02 new catalog images"]
---

WHAT CAN WE PRE-ORDER?
You can see all of the products available when you purchase the demonstrator starter kit, or on the demo website. I can't post the list, but if you email me directly I can give you more info on what you can pre-order in your demo kit as well.
You can see a few product specific videos below of what is available for pre-order now.
PRE-ORDER FAQS
How can I pre-order new catalog products?
If you are a demonstrator, simply log into the demo website for details. If you aren't a demonstrator, but would like these products now, you can simply purchase the demo kit and get the demo kit deal.
Can I get new catalog pre-order products in the demo kit?
Yes, you can also get Share What You Love bundles, retiring and clearance rack products.

Did you know the demonstrator kit is the BEST DEAL?
It's true, if you have any kind of wish list this is the best way to go. You get $125 for only $99 and free shipping and future discounts and perks.
Can I join as a demonstrator just for the discount?
Yes, it's the most popular reason people join. No selling, classes, parties, etc necessary unless you want to have fun doing these things. Many people take advantage of the great deal just for themselves.
What is the demo kit and more FAQ's all answered here.
---
CARD SWAP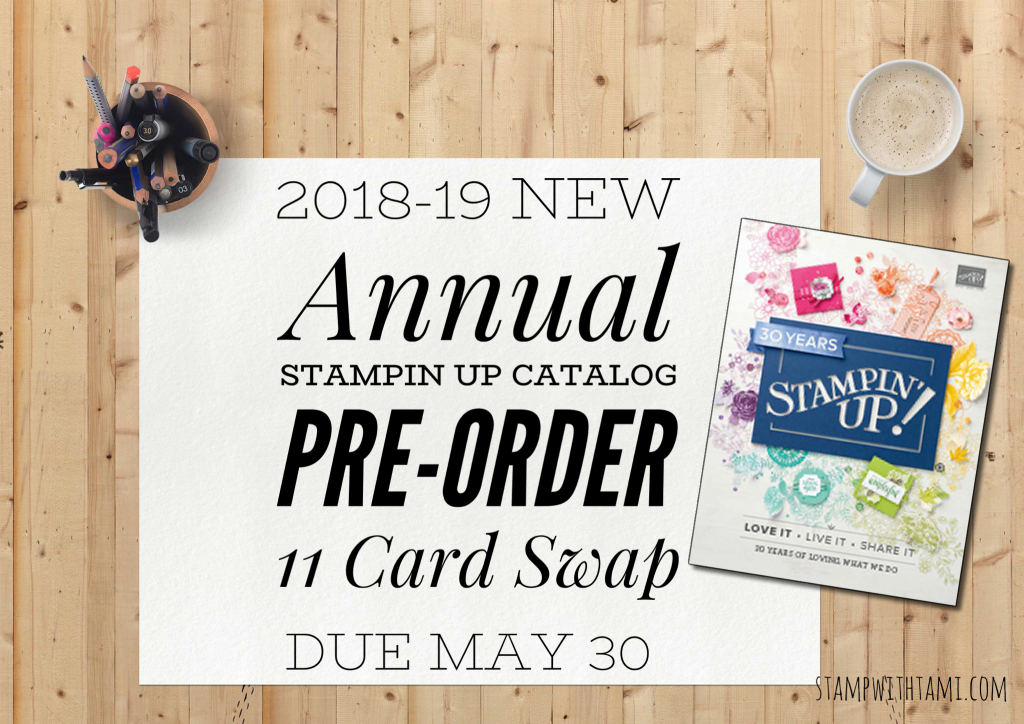 Don't miss my pre-order a card swap for more awesome ideas.

---
NEW PRODUCTS VIDEOS
Calligraphy Essentials

Sitty Pretty Bundle

Delightfully Detailed Suite

Abstract Impressions Bundle
Rooted in Nature Bundle

Graceful Glass Suite

Lined Alphabet Bundle

---
IMPORTANT DATES

April 1- May 31: Place a $75+ order in my online store and receive a free Annual Catalog
NOTE SHIP TIMES FOR YOUR FREE CATALOG WILL VARY BASED ON WHEN YOU EARN IT
Customers who qualify for a free catalog April 1-28 will be in the 1st round of shipping on May 8 direct from Stampin Up. If you qualify after this, your new catalog will ship the end of May.
April 9: Demonstrators can pre-order Share What You Love Early Release Suite
April 10:
April 30: Share What You Love Card Swap Due
May 1: Customers can order Share What You Love Early Release Suite
May 2-31:

Demonstrators can begin Pre-ordering Products from the new Catalog, and will receive the new catalog in with your order.
New Recruits can get Pre-Order Products in their kit
New Recruits receive a case of new Catalogs w/ their kits
Demonstrators: Tami will host a Pre-Order Card Swap for Demonstrators (exact due date TBD)

May 8: Customer Catalogs Round 1 ships earned April 1-25 will begin shipping (if you qualify for a free catalog in May, it will ship the end of May)
May 15: Demonstrators free Catalogs begin shipping (if you did not place a pre-order)
May 22: Retiring Stamp Sets go "While supplies last" and may sell out.
May 31: LAST DAY both Old Catalog, Retiring List AND Occasions Catalog
June 1: Customers can begin ordering from the new Catalog
---
HOW TO GET THE NEW ANNUAL CATALOG
(US only)

Join my Online Club: active club members receive free catalogs
Join Stampin' Up as a Demonstrator: automatically get free catalogs from Stampin Up, demo discount and pre-order new products
April 1 – May 31: Place a min $75 order in my online store automatically receive a free catalog from me – note the catalog ship dates  based on when you earned a free catalog from me.

NEW CATALOG SHIP TIMES
New Catalog Ship times based on when your  order was placed:
Order placed April 1- 25 (1st Round): new catalogs will ship direct from Stampin Up beginning May 8
Order placed April 26 – May 31 (2nd Round): new catalogs will ship the end of May.
PRE-ORDER YOUR NEW CATALOG
If you don't have a demonstrator, and don't qualify for a free catalog. The cost is $7 (this is to cover my shipping costs). These are 200+ big catalogs and idea books, and I purchase these and pay to ship them. I offer them to you for free, but I need to charge to cover the shipping costs.

---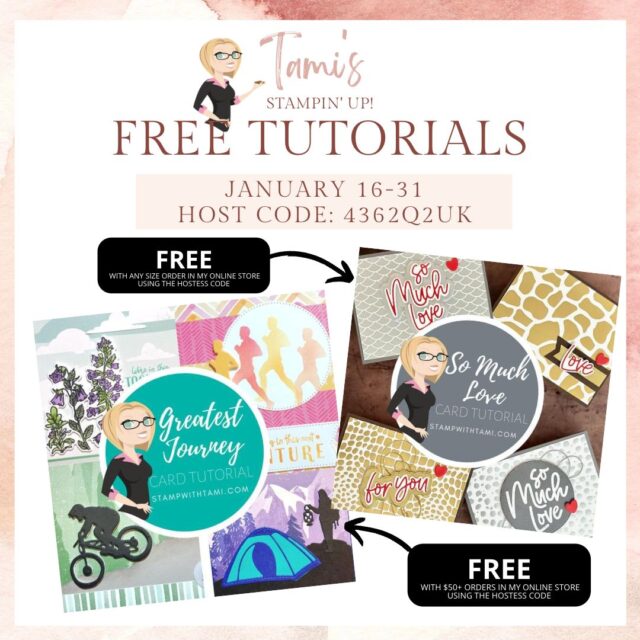 TAMI'S STAMPIN UP SPECIALS
January 16-31 for Free Tutorial Gifts & Specials
Must use hostess code: 4362Q2UK
CURRENT PROMOTIONS
SHOP ONLINE