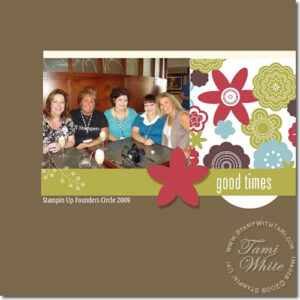 Join me today for My Digital Studio 101 Basics – the video tutorial. Whether you just purchased the BRAND NEW Stampin' Up My Digital Studio software, or want to but have been waiting to see how it works…this video will help you get started. The video is much easier to see then my first MDS tutorial, and you'll find this more helpful.
In this video, I'll be creating this digital scrapbook page. You'll learn how to import photos, stamp, punches, text and paper to your MDS (My Digtal Studio) project. AS well as changing colors and adding drop shadows.
I'll be demonstrating how the program is so easy to use, you don't need to know your left from right to make beautiful creations in it! It's entertainment, as well as education.
I love the picture, it's from a recent Stampin' Up Founder's Circle trip of my buds Patty Bennett, Dawn Griffith, Tiffany Bauer, Ann Clemmer and myself. We had so much fun (thanx for the pic Dawn!!).
My Digital Studio – MDS 101 – Basics – Stampin Up from Tami White
For exclusive technique videos not seen anywhere else, join my online stamp club. Click here for more info >
Join My Newsletter | Feedburner