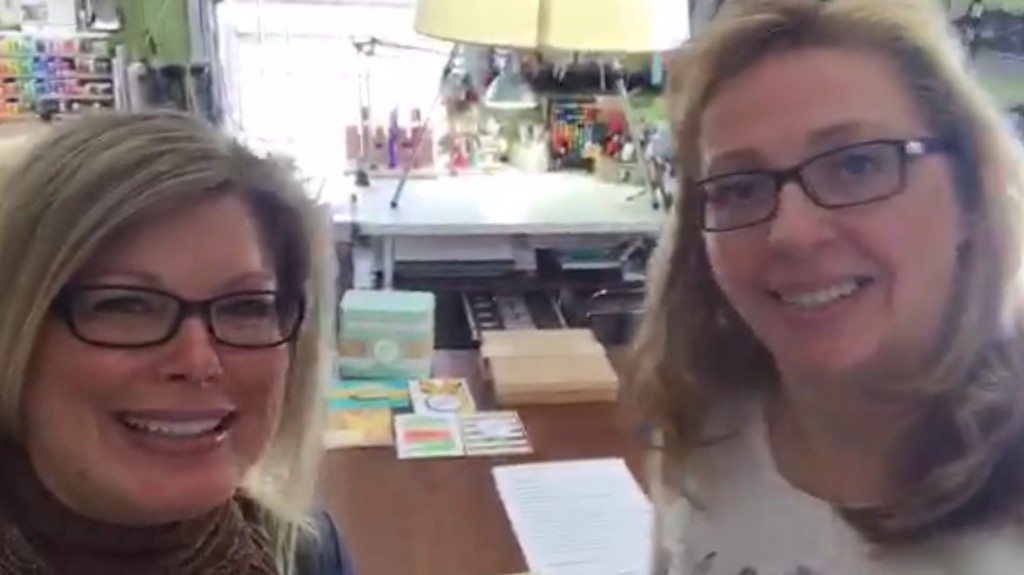 THE STAMPIN SCOOP SHOW – APRIL 5
Get zany and sing along with us in today's episode of the Stampin Scoop Show. Linda and Tami will showcase products and projects from the BIG SALE happening in the Weekly Specials. And reveal some sad news regarding the end of the Weekly Special program.
CORRECTION: These Weekly Specials are only good thru THIS Monday, April 11, 2016.
But it's not all sad, we have news too…The Stampin Up Retirement List Date is revealed! It will be released on April 18, and some hot tips on why you want to stock up on Blackberry Bliss now before the 18th. They also go over some details on the New Stampin Annual Catalog dates (See below, or visit the CATALOGS AND RESOURCES PAGE)
See 3 amazing Stampin Up kits up close and unboxed: All boxed Up, The Tin of Cards, and Watercolor Wishes. Including what comes in the kits, see cards made from the directions and some alternate projects from the kits.

Don't miss the Post Game Show (Part 2) where Tami and Linda rip open the You're So Lovely Project Kit in the Occasions Catalog and reveal when the "Mystery" item is. And make a "Viewers Choice" card with the contents in the kit.
Catch this week's replay videos below.
---
 THE STAMPIN SCOOP SHOW
No Description
THE POST GAME SHOW
Stay in the know, and be inspired with The Weekly Stampin Scoop Show. Recorded live every Tuesday, featuring Tami White and Linda Cullen. You can view these replay videos even if you don't have the Periscope app (See below). Click for past episodes of the Weekly Stampin Scoop Show.
---
RESOURCES FROM THE SHOW
WEEKLY SPECIALS – good thru Monday, April 11 (not the 18th as we thought when we aired)
PROJECTS

Watercolor Wishes Card Kit #140406
Tin of Cards Kit #138378
You're So Lovely Project Kit #140590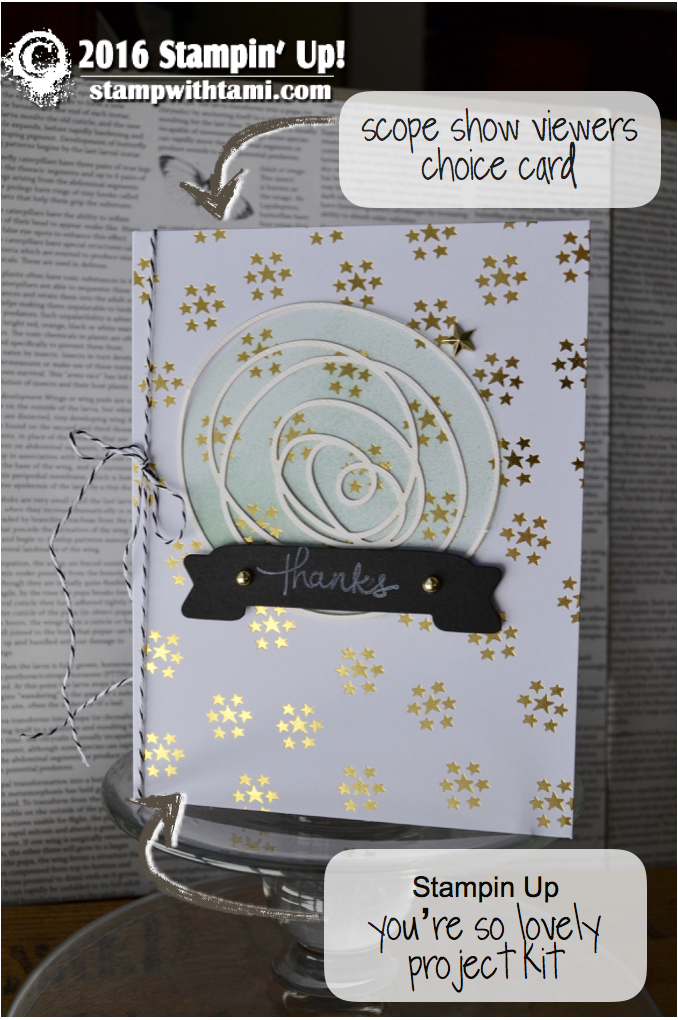 2016 RETIREMENT LIST AND NEW CATALOG DATES
April 14-16: Stampin Up On Stage Event in SLC – demos attending will receive a new catalog
April 17: New Catalog online for Demonstrators only
April 18: Retirement List is revealed to everyone
May 3-31:

Demonstrators can begin Pre-ordering Products from the new Catalog
New Recruits can get Pre-Order Products  in their kit
New Recruits receive a case of new Catalogs w/ their kits
Tami will host a Pre-Order Card Swap for Demonstrators (exact due date TBD)

May 16: Demonstrators free Catalogs begin shipping
May 31: LAST DAY both Old Catalog, Retiring List AND Occasions Catalog
June 1: Customers can begin ordering from the new Catalog
I will be posting details on how to get your new catalog soon. Stay tuned.
---
WHAT IS PERISCOPE

Periscope is a smart phone app where you can view and participate in live broadcasts. It is not a substitute, or a replacement for YouTube (My youtube schedule is still the same). Download the app and search @stampwithtami OR click here:
Tami: https://www.periscope.tv/stampwithtami
Linda: https://www.periscope.tv/craftystampin