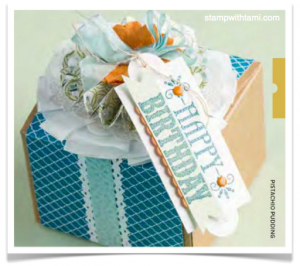 In today's video, Brian Pilling is going to demonstrate how to create the cute gift box topper featured on page 15 of our 2013-2014 Stampin Up annual catalog. This would be a great way to dress any gift and make it even more special. See supply list, video and instructions below.
Did you know? You can find the supply list for every project in the Stampin' Up catalog in my Catalogs & Resources section of my blog.
SUPPLIES
VIDEO
 INSTRUCTIONS
We are going to start at the top and work our way down.
The first thing you'll see is our Pool Party Seam Binding tied together with some of our linen thread.
The next layer down features some of our card stock punched out with our 1 ¾" Scallop Circle Punch.
To get the faux suede look just distressed the paper until it starts to separate and then gently pull the layers apart.
The next layer down is some of our Designer Series Paper that has been cut with the Designer Rosette Bigz L Die using the Big Shot. This die is an easy way to make rosettes and you can customize their size by trimming your paper and making a narrower piece. For this project, we cut the paper to about one inch and one-fourth inch from the top of the scallop.
Then we just alternated folds along the scored lines and secured it together with a little sticky strip.
The next layer uses one of our Tea Lace Doilies.
We wanted our circle to be a little smaller, so we cut out a small slice and then teased in the middle to make the circle smaller. We then added back in the cut slice to complete the circle.
The good news is that you don't have to worry about what the middle looks like because it will be hidden by these other layers. For the bottom later, we used our Creped Filter Paper.
Again we wanted to make the circle a little smaller and add some texture so we cut through to the center and, using the Tea Doily as a guide, we worked in some folds.
We used two of the Creped Filter Paper circles to complete this layer.
We secured the layers with hot glue and put them on top of one our Kraft Gift Boxes wrapped in some Designer Series Paper.
We've also added a greeting tag that features the You're Amazing stamp set. Thanks for tuning in — and have fun creating this fun gift topper