HOW CRAFTING CAN CHANGE THE WORLD #TEAMSEAS
Psst when you're done drinking that water from the plastic bottle are you going to throw it in your fish tank? Of course not! But that is basically what is happening with so much of our plastic and trash. It's ending up in our landfills, rivers and oceans. We need to clean up our trash! Learn how HOW CRAFTING CAN CHANGE THE WORLD!
One of the many things that I love about being a Stampin' Up Demonstrator is the opportunity to make a difference. I've joined the #TeamSeas global campaign along with many YouTube Creators & Influencers. Our goal is to raise $30Million to remove 30Million pounds of trash from our ocean, rivers and beaches.
How will we do this? #TeamSeas is partnered up with Ocean Conservancy and The Ocean Cleanup. 100% of all donations will be split between these 2 non profits. Read FAQs below, or go directly to #TeamSeas for full details.
Check out the video for my ocean themed card making class and how to enter my giveaway.
HOW CAN I PARTICIPATE?
Donate directly at #TeamSeas
Order in my online store: I will be donating 20% off all purchases made in my online store made October 29-31.
20% OF ALL SALES DONATED OCT 29-31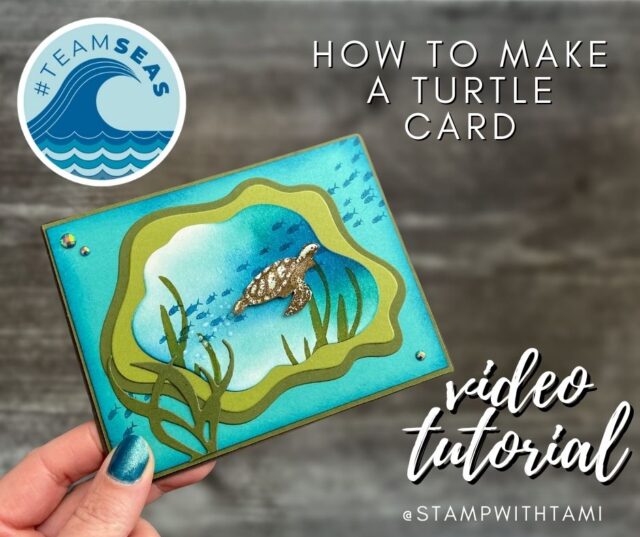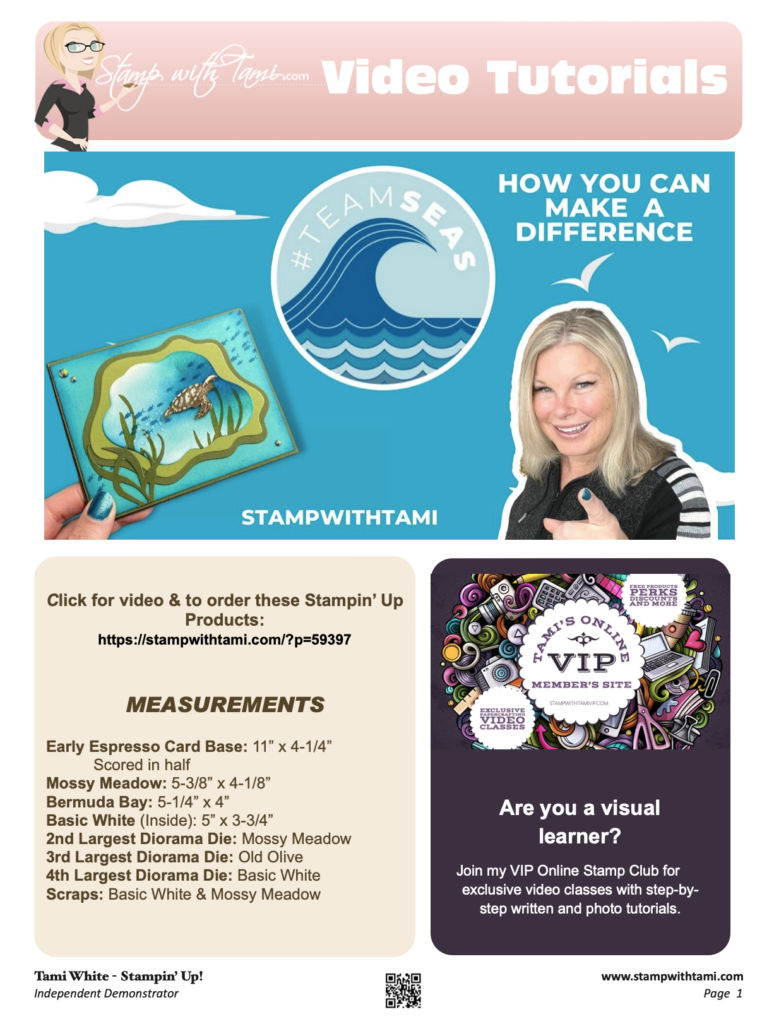 Free printable pdf including measurements and the supply list to create the turtle card.
There are clickable links to the products in my online store on the pdf.
PIN THIS
Pin this to your favorite Pinterest board to save the idea for later.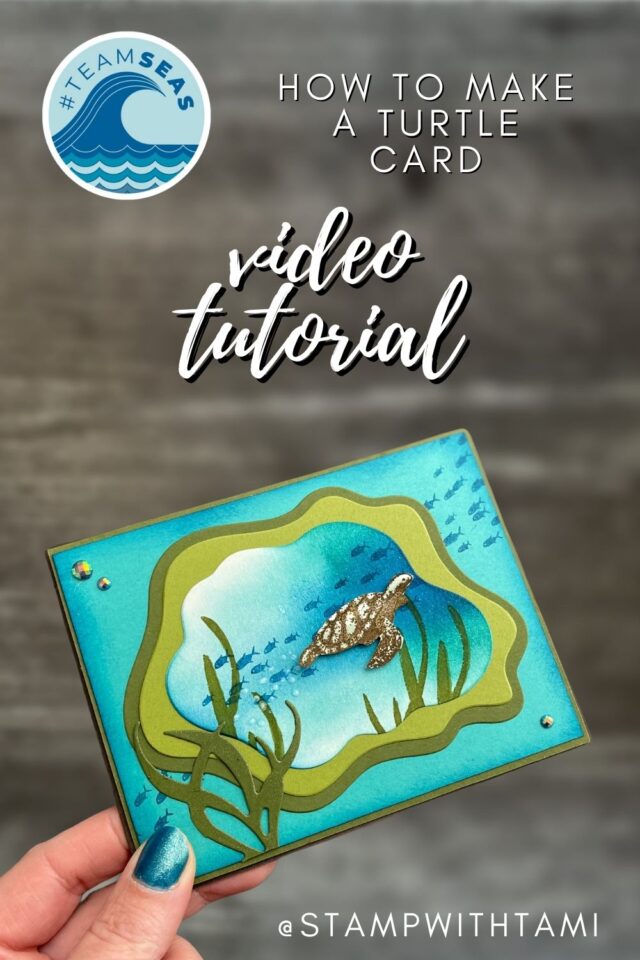 GIVEAWAY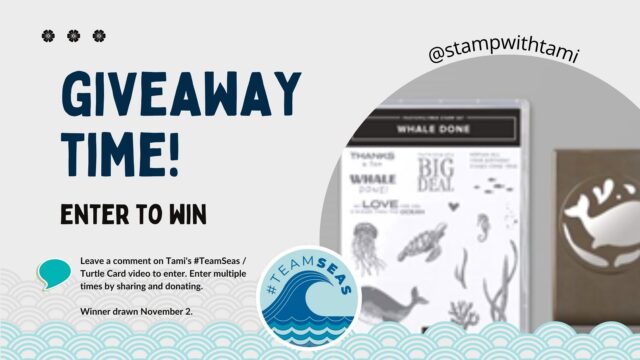 Enter to win the Stampin' Up Whale Done stamp set and Whale Punch by leaving a comment on my #TeamSeas Youtube video. Enter multiple times by sharing the video and/or making a donation at www.teamseas.org.
---
#TEAMSEAS FAQ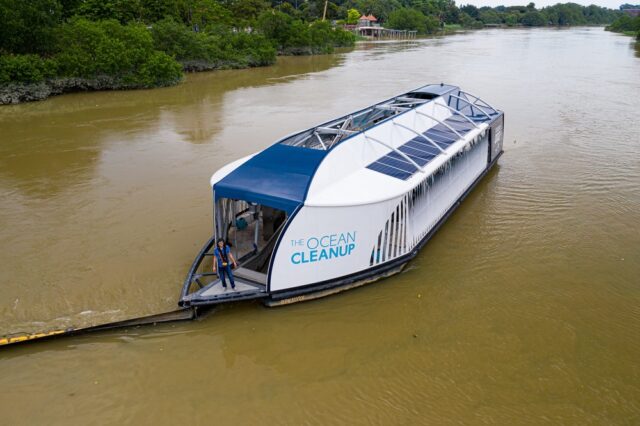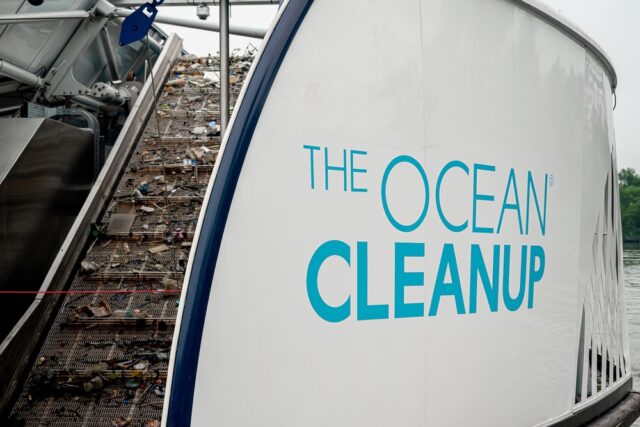 WHAT IS #TEAMSEAS? 
#TeamSeas is a global campaign to raise $30M to remove 30M pounds of plastic and trash from our ocean, rivers and beaches. It's also the second wave of the largest creator-led fundraising campaign to ever hit the internet: #TeamTrees. We launched #TeamTrees in 2019 with a goal of raising $20M to plant 20M trees and we smashed it—raising over $23M and generating more than 1B video views. Even two years later, TeamTrees.org is still receiving donations for planting 2,600 trees every day.  We're back again to rally the internet's passion and imagination in support of the ocean and all of us. Creators can sign up to join the team at TeamSeas.org/signup (NOTE: please keep the surprise and don't share that link publicly).]
WHO IS INVOLVED IN #TEAMSEAS? 
Just like the original campaign that inspired it, #TeamSeas is being led by Mark (Rober), Jimmy (MrBeast) and Campaign Director, Matt Fitzgerald (@fitz350). And similar to last time, we're reuniting the world's most popular content creators to join the team, make it their own and invite their audience to power #TeamSeas and achieve its ambitious goal. Think of it as a giant, global potluck for good. 
WHICH NONPROFIT CHARITIES ARE YOU PARTNERING WITH? 
For #TeamSeas, we've partnered up with Ocean Conservancy and The Ocean Cleanup. All donations to #TeamSeas will be split by the two charities, 50/50. 
Ocean Conservancy is #TeamSeas's implementation partner for beaches and oceans. Ocean Conservancy champions science-based solutions to tackle the largest ocean conservation challenges we face to strengthen the health of the ocean today and for the future. They mobilize citizen advocates to facilitate change, and are committed to supporting efforts that benefit the people who depend on the ocean for food, jobs and recreation. Ocean Conservancy facilitates the International Coastal Cleanup (ICC), one of the world's largest volunteer cleanup efforts for the ocean. Ocean Conservancy is a US-based 501(c)3 nonprofit (EIN 23-7245152) and are rated 4 stars (94/100) by Charity Navigator. 
The Ocean Cleanup is #TeamSeas's implementation partner for rivers. The Ocean Cleanup develops and scales technologies to clean up what is already polluting our oceans and to intercept plastic on its way to the ocean via rivers. Their goal is to achieve a 90% reduction of floating ocean plastic by 2040. Founded in 2013, The Ocean Cleanup has a proven commitment to the ambitious goal of ridding the world's oceans of plastic. With their river systems, the Interceptors, they are now helping to close the tap on a global scale, capturing plastic before it enters the oceans via rivers. The Ocean Cleanup is an registered ANBI Foundation in the Netherlands and also a Gold-rated US 501c3 nonprofit (EIN 81-5132355)
WHAT'S THE DEAL WITH PLASTIC POLLUTION IN OUR WATER?
Our ocean, rivers and beaches are full of plastic trash. It's estimated that there are 200M tons of plastic already circulating in marine environments, with an estimated 11M tons entering the ocean EVERY YEAR. Pollution from bottles, bags, straws and abandoned fishing gear is a health crisis for our entire planet. So we're going to remove the equivalent of 85 football fields covered a foot deep in trash. 
WHY OCEANS, RIVERS AND BEACHES? 
The ocean and the life within it are incredibly important. Aside from the water we drink, the ocean produces half the air we breathe every day. So it's a no-brainer that keeping it clean and healthy is critical to our survival. But keeping our rivers and beaches free of trash pollution is just as 
important. Rivers contribute up to 20% of ocean plastic pollution overall. They are the arteries that carry waste from land to the ocean and it's important we cut off that problem upstream. And trash on beaches can inevitably make its way into the water and harm coastal habitats, which is why we are focusing our attention on cleaning up all three. 
HOW ARE WE ACTUALLY GOING TO CLEAN UP ALL THIS TRASH? 
We're glad you asked. Because 30M pounds is A LOT of trash. We're dividing our work among three points of intervention: beaches, rivers and oceans.
Beaches
 With the experts at Ocean Conservancy, we'll send professional crews to clean up some of the most iconic, vulnerable beaches on the planet. We'll also be holding safe, locally-hosted events leveraging Ocean Conservancy's International Coastal Cleanup (ICC) network so #TeamSeas members can roll up their sleeves and see the impact they're making firsthand, one pound of trash at a time. The ICC is the largest beach cleanup network in the world (more than 340 million pounds of trash have been collected from beaches in its 35 year history!) and with your help we'll make it even bigger.
Rivers
For our rivers, #TeamSeas will fund Interceptors™, The Ocean Cleanup's cutting-edge river cleanup technologies that collect trash before it can reach the ocean. The Ocean Cleanup has several Interceptor™ solutions already deployed at some of the world's most polluted rivers to catch plastic and trash upstream. #TeamSeas will support the expansion and continued operation of this work as The Ocean Cleanup takes aim at the 1% of rivers which contribute 80% of the trash flowing into the ocean from rivers.
Oceans
Lost, abandoned and discarded fishing gear – or ghost gear – is some of the deadliest ocean trash, and is super tricky to recover. #TeamSeas will work with Ocean Conservancy's Global Ghost Gear Initiative® to go to ghost gear "graveyards," where we'll identify and float the abandoned gear to the surface. From there it'll be hooked onto boat cranes and removed from the ocean forever. 
IS ALL OF THE MONEY GOING TO THE NON-PROFIT PARTNERS? 
Yes. Every single dollar #TeamSeas raises will go directly to these two solutions-oriented not-for-profit organizations, Ocean Conservancy and The Ocean Cleanup. They will split the funds 50/50. Ocean Conservancy receives the funds first, which is why you'll see them listed on the YouTube Giving fundraiser.
---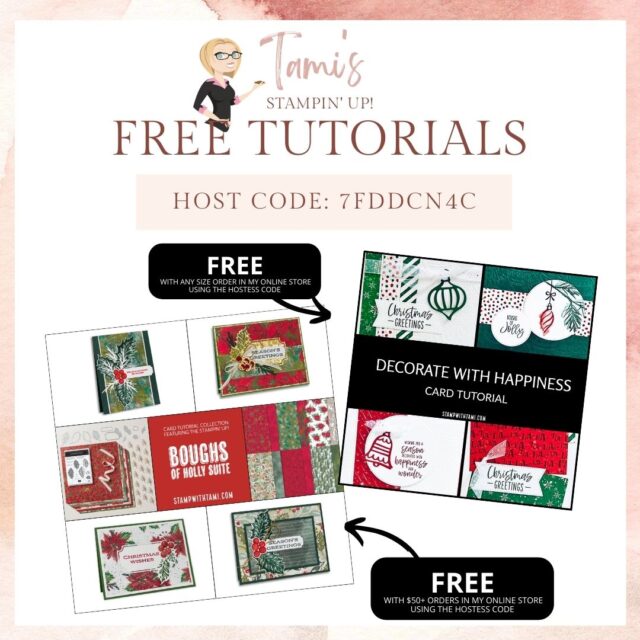 TAMI'S STAMPIN UP SPECIALS
October 1-15 for Free Tutorial Gifts & Specials
Must use hostess code:
7FDDCN4C
CURRENT PROMOTIONS
SHOP ONLINE