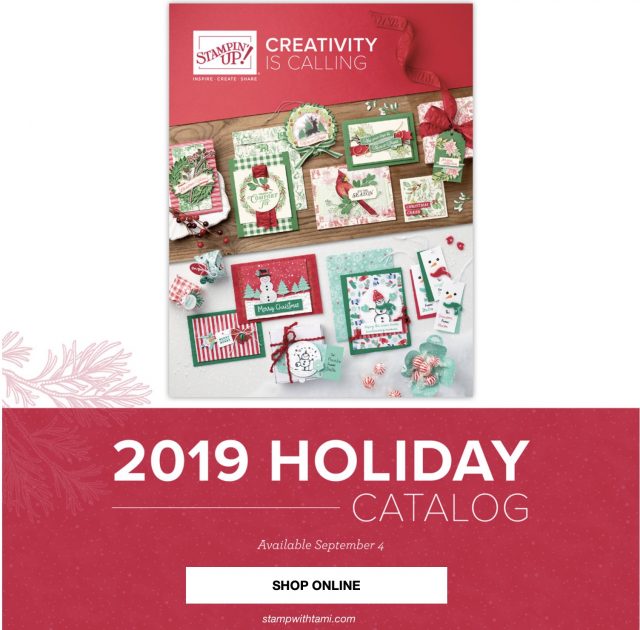 2019 HOLIDAY CATALOG
The new Stampin' Up Holiday catalog and products are now available in my online store. You can also view the Holiday Catalog online. I have lots of ideas and videos for the new products below. Purchase the "Most Wonderful Time" Product Medley now through September 10 and get a free bonus class and supplies from me. Join my VIP Online Club and the the new Holiday Haul Hostess stamp set free.
Got $99 worth of Holiday catalog products on your list? When you purchase the demo kit deal, you'll receive $26 free.  Plus free shipping on the kit and a discount on products. Click here for details.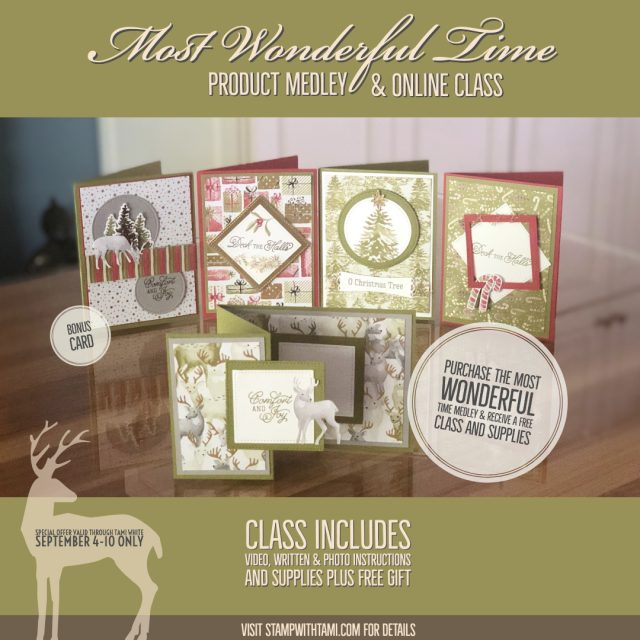 MOST WONDERFUL TIME FREE CLASS KIT & BONUS
Offer valid
September 4-10 – Customers
Now – September 10 – Demo Kit
Exclusively available through Tami White
Want to get a jump start on those holiday cards early this year?
Order the Most Wonderful Time Product Medley in my online store September 4-10 (or in a demo kit starting now) and I will send you a free online class including kit supplies, "how to" video, written instructions with photos and materials.
This amazing product medley is debuting in the Stampin Up Holiday Catalog that releases to customers September 4. The medley contains almost everything needed to complete the class cards, and so many more awesome projects. I will supply the card stock and envelopes for the 4 different card designs. Plus supplies for the bonus card that we are making on today's video. That's 5 card designs and supplies total. In addition, I'm also throwing in a free bonus gift with the kit supplies I'm sending.
If you're excited about everything in the Holiday Catalog and not sure where to start, start with the Most Wonderful Time Product Medley and take advantage of this limited time offer. Check out the bonus card on today's online class video. Click here for details on how to get your class/kit and free gift.
---

How do I get my hard copy of the new Holiday Catalog in the mail?
---
IDEAS FROM THE HOLIDAY CATALOG
MORE VIDEOS
Sneak peeks from the upcoming 2019 Stampin Up Catalog from the Stampin Up incentive trip last week. There are 3 videos in this collection. Check out some new products coming out soon, along with some cool techniques. These videos were all taped at our general session on the incentive trip cruise, sorry the audio/video isn't the best.
---
25 PRODUCTS UNDER $25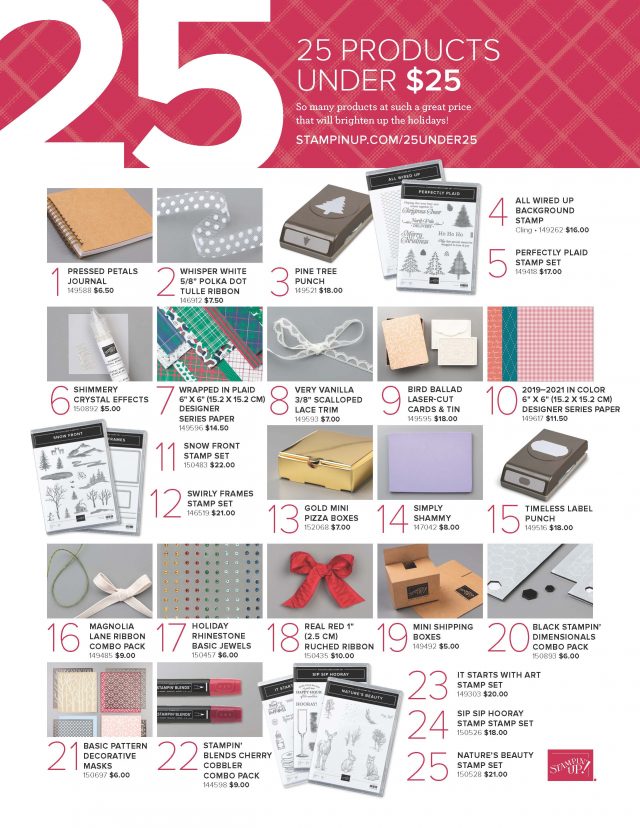 ---