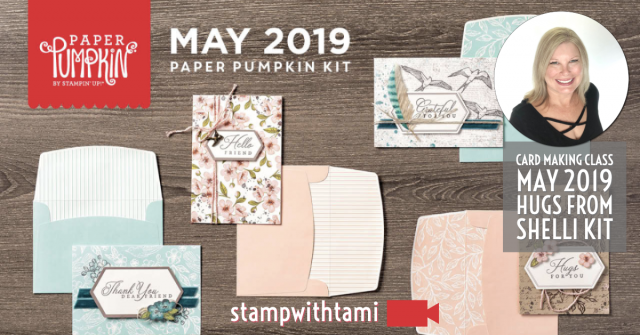 HUGS FROM SHELLI CARD KIT
For the May Paper Pumpkin kit, we've teamed up with Shelli Gardner, Stampin' Up!'s board chair and cofounder, to deliver you a very special Paper Pumpkin kit. It's exclusive, collectible, and one of a kind. Die-hard Paper Pumpkin and Stampin' Up! fans won't want to miss this special edition.
The look and feel of this kit is all Shelli. It's elegant, feminine, and so full of springtime details that you'll probably just want to take a walk, breathe in the fresh air, and then go home and stamp every card in the kit. And the box it comes in? We predict that you'll be keeping it . . . like . . . forever. Wait and see.
Here at Paper Pumpkin, we love providing easy, fast, and fun creative experiences for our subscribers. We do this in a cost-saving and time-efficient way: by delivering a cute package filled with fun papercrafting goodies . . . right to your door.
In addition to providing everything you need to make a pre-designed, all-inclusive project, we also have another goal in mind: to help you unlock and explore your creativity by introducing you to exciting and innovative products from Stampin' Up!
Be sure to check out the details below on the upcoming June kit.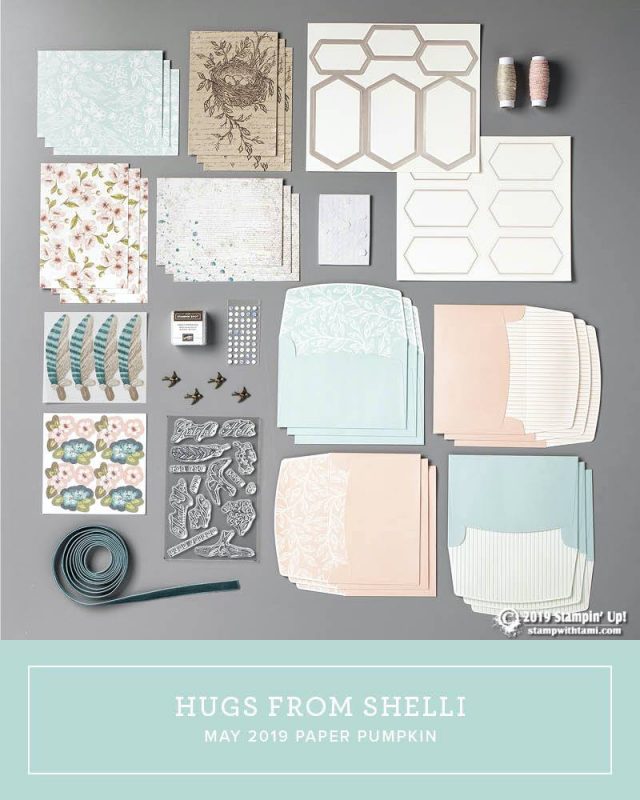 Video Class: This video class will be recorded live on Facebook, the replay will be avaialble of both Facebook and Youtube. Join in live and be part of the taping, or catch the replay on either social media outlet (as well as here on my blog).
Prize Patrol! I'll be giving a couple of these kits away live. Leave a message on the video to enter. I'll be drawing prizes for both live and replay viewers.
Stamp Case Inserts – I now have downloadable stamp case inserts for September 2018 – May 2019 posted below. I will post these inserts each month with my videos.
KIT REFILLS
The "Hugs from Shelli" kit refills are available in my online store while they last.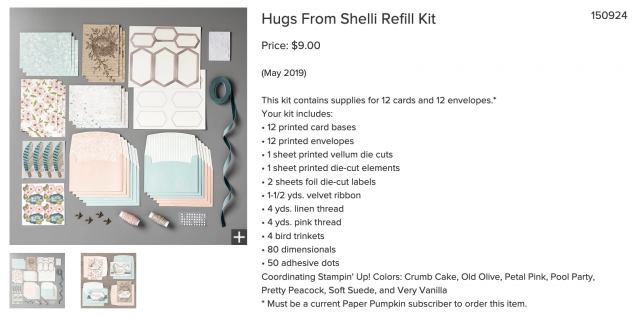 ---
TAMI'S MAY VIDEO REVEAL CLASS
---
---
UPCOMING PAPER PUMPKIN KIT

Care about someone? Why not tell them?
Paper Pumpkin and Stampin' Up! are all about sharing kindness through creativity. And as dedicated as we are to making a difference with our papercrafting, sometimes we just don't have a card on hand when we need it most.
Enter June's Paper Pumpkin kit. It helps subscribers share random acts of kindness whenever inspiration strikes—and in a fun and easy way. See how we used the June kit to spread kindness and get a peek at the design in this exclusive video, then share it with your customers today!
Deadline to sign up for the June kit is June 10
CLICK HERE TO SUBSCRIBE
---
PAST KIT REFILLS

PAPER PUMPKIN MONTHLY DATES
---
PAPER PUMPKIN STAMP CASE INSERTS
---
CONTEST GIVEAWAY

This is a video comment entry giveaway. To enter, simply click over to the video on Youtube and Facebook and leave a comment. No purchase necessary.
Congratulations to our live winners: