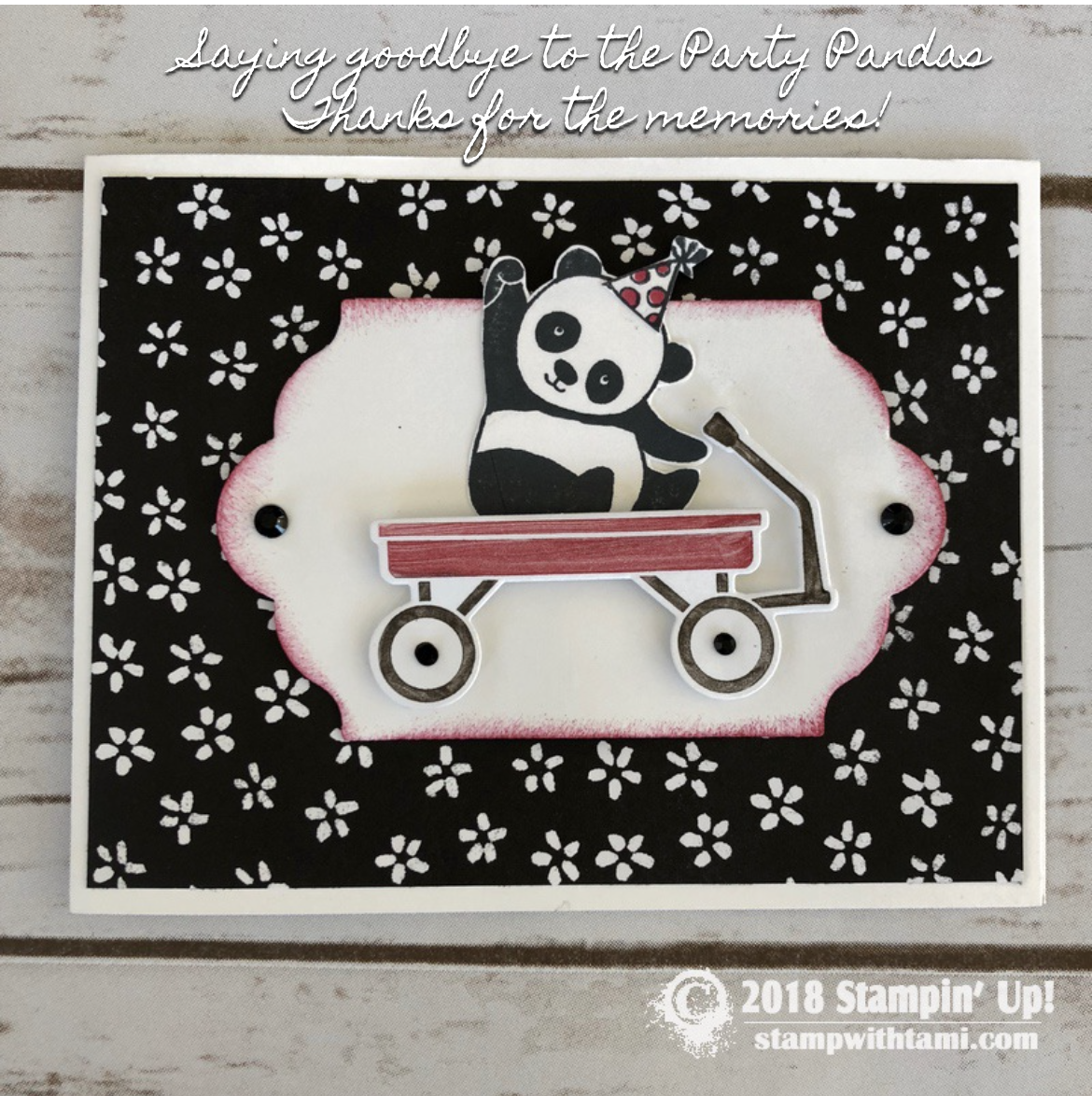 I will never look at the Party Panda stamp set without smiling. It will always hold fun memories and laughter in my heart, long after it retires. When you laugh so hard you cry, and you can't stop….thanks for the good times Party Pandas.
REMINDER: The Pandas and all of sale-a-bration will be gone forever! Saturday, March 31 is the last day before it retires. Details on Sale-a-bration are here, and below.
Here's a snippet from Tuesday's Stampin Scoop Show that's sure to make laugh out loud. Ode to Wagon Panda, Flying Panda, Dancing Panda, Hula Panda, Pineapple Panda and Rhinestone Juggling Panda …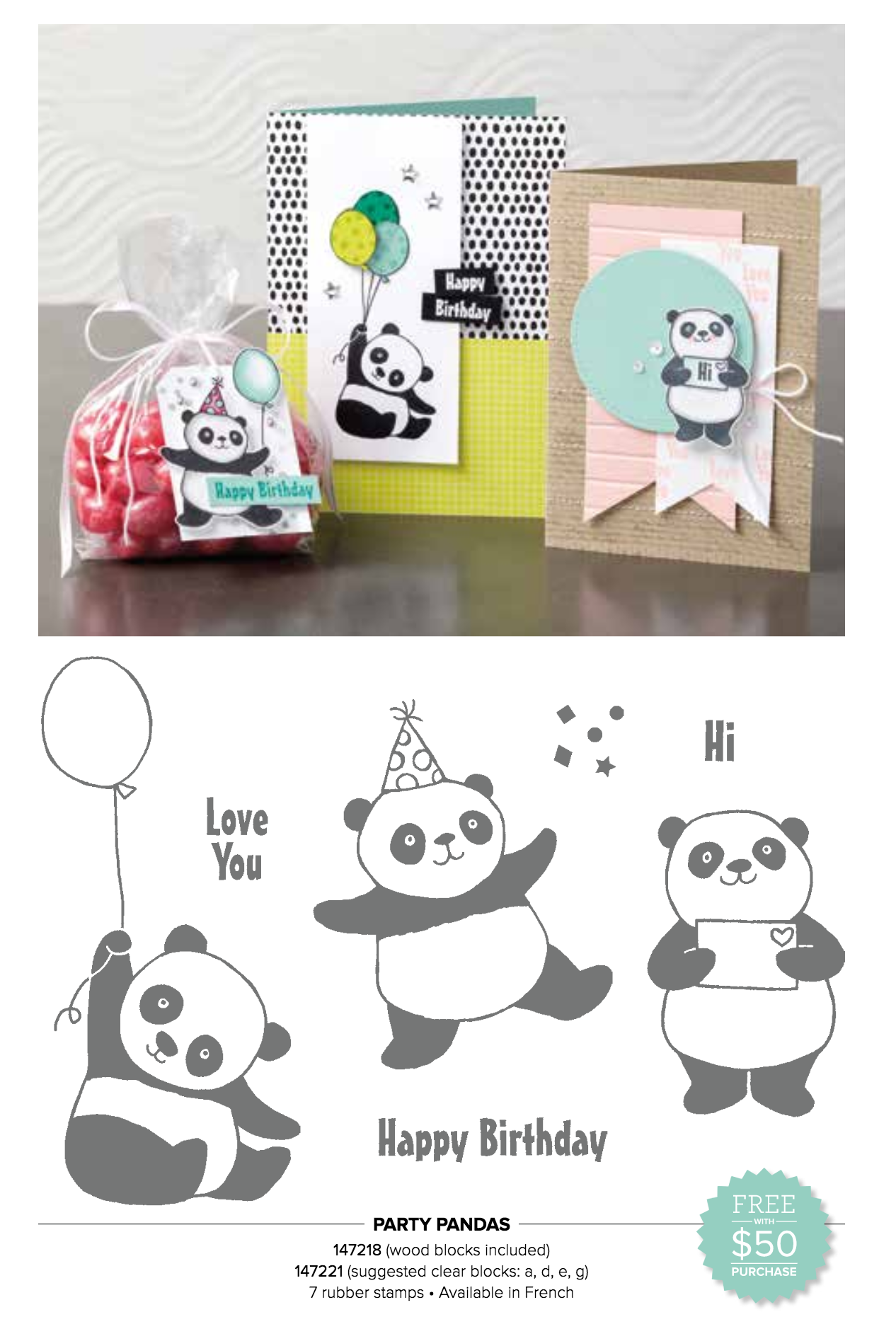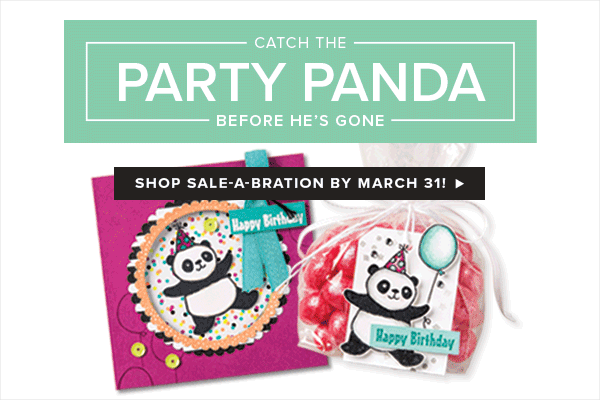 ---
SALE-A-BRATION DATES:

Customers: January 3-March 31, 2018
Download the 3 SAB brochure pdf's
Purple: 3rd Release Mar 15 (orange), 2nd Release in Feb 16 (purple) and the original SAB items (blue)
---
WHAT IS SALE-A-BRATION?
The biggest Stampin Up sale event of the year! Customers can earn free, exclusive products with every qualifying order. If your wish list is big, don't miss the demo kit special. It's the best!
3 WAYS TO EARN FREE STAMPS
SHOP ONLINE: For every $50 you spend (before tax and shipping), you get a FREE Sale-A-Bration product. For anyone who has enjoyed Sale-A-Bration in the past, we have an exciting new announcement for this year: We now have a new reward level, giving you  more flexibility and options for your free items.
Let's break it down:

If you spend $50, you get one free

level 1

product.
If you spend $100, you get one free

level 2

product, OR, you can choose two

level 1

items.
If you spend $150, you have the option to choose three

level 1

items or one

level 1

item and one

level 2

item.

JOIN STAMPIN UP: Get 2 Additional Free stamp sets in your demo kit, anything you'd like (excluding bundles and SAB stamp sets). That alone can value up to $104!! On top of the $26 Free and free shipping on the kit. BEST DEAL!!!!!
STAMPIN REWARDS: Orders, workshops, etc over $250 receive an additional $25 free Stampin Rewards.
---