ONLINE CARD CLASS
Today's live online card class features both retiring In colors AND retiring Sale-a-bration products. Sale a bration offers free limited edition products with ever $50 order. When you are stocking up on retiring In Colors, you can get the Make a Medallion set free during Sale-a-bration. It is a limited edition stamp set, only available until March 31.
Love the color combo of this Thank you card. The stamps were combined with the Blooms & Bliss designer paper collection that features retiring in colors. Perfectly layered over a lace doily. Designed by Veronica Zalis.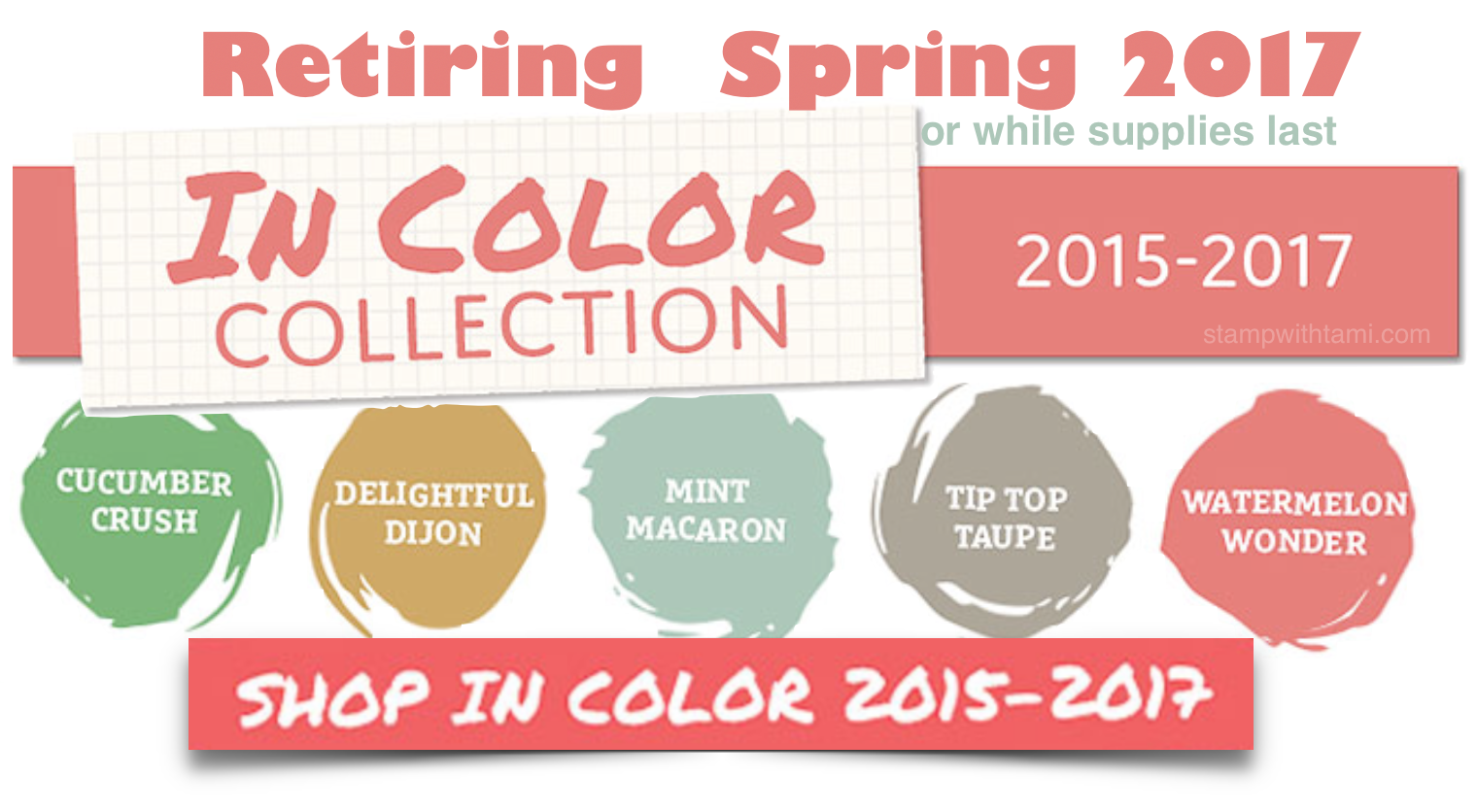 WHAT YOU NEED TO KNOW ABOUT RETIRING IN COLORS
One of the many awesome features of Stampin Up products is our color coordination. Everything matches, it's like Gar-animals. Remember those clothes when we were kids? The monkey tags went with the monkeys, making it easy to dress your kids in matching clothes. Stampin up is like the Gar-animals of paper crafts lol. Stampin Up has 5 Color Collections: Regals, Subtles, Brights, Neutrals and In Colors.
The In Color collection is a little different from our Core Collection. Each year 5 of these 10 colors go away, and we get 5 new colors. It's a great way to introduce fresh and trendy colors.
The In Color Collections are named by the year they were introduced and the year they will be retired. For example the collection retiring this spring is named 2015-2017 In Colors. They are retired with the Annual Catalog in the spring. This year's catalog will be officially retiring May 31, 2017 (marked on the front of the catalog).
You can find (and request) the Catalogs online on my  blog under the CATALOGS AND RESOURCES tab.
The date of the 2017 Retiring List announcement has not been made yet. Probably will be the end of April or May. Currently, I do not know what else is retiring, nor have the new collection of In colors been announced. I'll post this info as soon as it's announced.
I'm giving you this head's up so you can start budgeting your purchases and collecting the products you want with these colors before they sell out. They often sell out within days of the Retirement list being announced.
I recommend stocking up on these products now, especially ink pad refills and card stock. This way, you'll have everything you need when the list is announced and won't have to worry about quick sell-outs.
See video, or links below for a full list of products containing retiring In Colors.
---
"HOW TO" VIDEO

---
INSPIRATION SHEET

All supplies used
Includes measurements

MORE FROM TAMI


Weekly Newsletter:
Join and get Free Bonus Card Tutorials each week
Online VIP Club: Learn techniques & exclusive videos, written directions, and bonus card tutorials and free stamps.
---
GIVEAWAY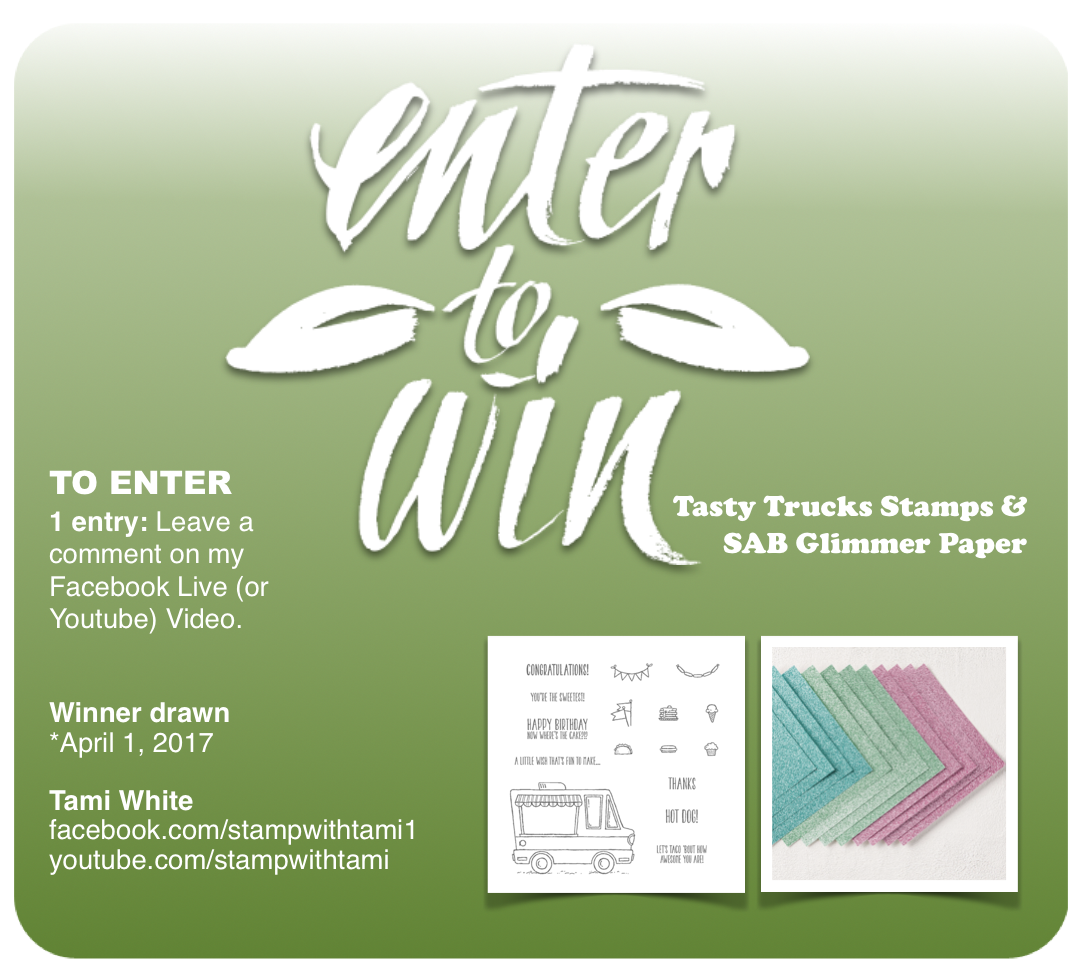 To enter drawing, leave a comment on my YouTube or Facebook Live
Congratulations to our live winners:
Carol Gregory-Lofland – Hey Chick
Kay Grover – Tasty Trucks
TAMI'S SCHEDULE OF EVENTS    *  SPECIALS & CONTEST GIVEAWAYS  *  WINNERS CIRCLE
---
TAMI'S ONLINE LIVE CLASSES
Learn new and fun paper crafting techniques with my new live online classes. I'll be creating fun and easy paper crafting cards and projects. The classes are free. You can follow along live, or later. I will do a prize patrol at the end of each class for the live participants, along with an "after live" giveaway everyone can partake in.
I love sharing new projects and techniques. I've been sharing how-to videos on Youtube since 2009. In addition, I co-host a live show every other Tuesday with Linda Cullen called The Stampin Scoop Show.
The live how-to classes will be held every other Wednesday (weeks opposite the Stampin Scoop Show) at 12pm EST. However dates and times may vary, for schedule and updates visit:
---
CARD SUPPLIES
---
PRODUCTS CONTAINING RETIRING IN COLORS
---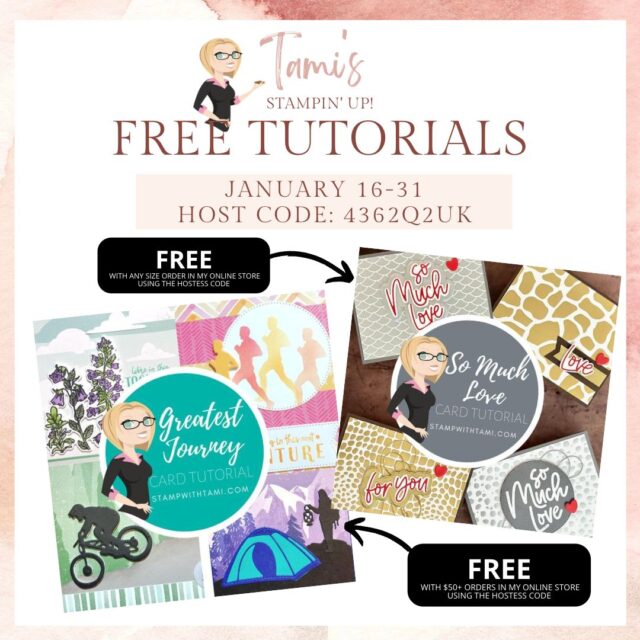 TAMI'S STAMPIN UP SPECIALS
January 16-31 for Free Tutorial Gifts & Specials
Must use hostess code: 4362Q2UK
CURRENT PROMOTIONS
SHOP ONLINE