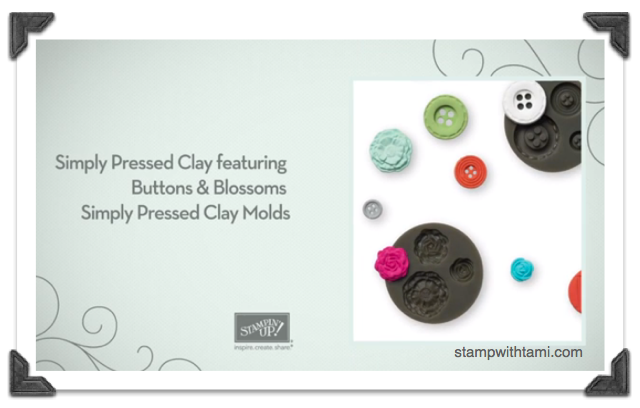 Simply Pressed Clay is white molding clay, found on page 167 of the 2013-14 Stampin' Up! Catalog. There are several different options for you to add color and create custom embellishments.
DIRECTIONS & TIPS:
You can add color by kneading ink into it (be sure to wear gloves.)
After it is dry you can color it with markers, spray it with reinker using a Stampin' Spritzer, or you can add some shimmer by spraying it with Smooch Spritz.
When using the Stampin' Spritzer, please note the depending on how much ink to water/alcohol you have will determine the hue of the color.
For stronger, bolder colors use more reinker, and for softer, subtler colors use less reinker.
The clay embellishments can air dry and can be handled delicately within five minutes. The embellishment will be fully dry in thirty minutes. You can pop them into the freezer to speed up drying but please don't put in oven; this will melt your molds.
To use the molds press a small amount of clay into the desired shape.
For the more delicate designs allow the clay to dry for a few minutes before trying to remove the embellishment.
You can create some fun accessories by taking advantage of the pliability of the clay before it's dry by poking a hole in the top to create a charm.
VIDEO:
SUPPLIES: