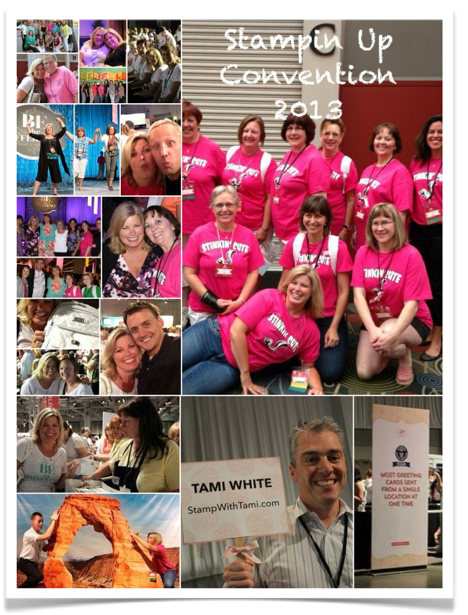 Stampin' Up!'s Annual Convention 2013
Celebrating 25 years!
Wow, what a whirlwind week of excitement it has been! So many stories from convention in Salt Lake City, UT. Many of you have been following me on Facebook and had the updates live, I will do a recap below in case you missed anything.
The biggest highlight for me, was being honored by Stampin Up as the #1 Salesperson in the company for 2013 (US)!!!!!!!
OMG!!! That really happened…I think…I know I didn't dream that! HUGE THANK YOU to all of my customers who made this happen. I can't tell you how much you mean to me and my family, I love you and I owe this honor to you. I hope to continue to provide the service, support and inspiration you deserve throughout this coming year.
I was also named the # 2 Recruiter and #5 in Leadership, and honored as one of the companies Top 100 Demonstrators of the Year / Founders circle. (sorry no #'s on this one, Stampin Up no longer ranks this category).
More of my favorite moments from convention:
Having a blast with my BFF's and demo group!! I <3 you gals, and miss you already
Our Stinkin' Cute pink t-shirts (thanks Esther!!!)
Prize Patrol!!! WE ALL won!!
Convention Bags
SWAPS!!! They are awesome this year!! I've even been posting some on my Facebook Page
Meeting the demos from UK, Australia and New Zealand. Not only are the excitable, they are inspirational and truly amazing.
Hearing Scott Nielson (CFO & former pitcher for the New York Yankees) say "Go Sox"  while emceeing Awards night when I was on stage! yes – that really happened!!
Setting a Guinness Book of World Records record for the most greeting cards mailed from 1 location
The ideas, the excitement and the energy from 5,800 friends
Stamping presentations, especially Bonnie Thurber…we laughed so hard we almost peed our pants (mental note for next time: go to the ladies room before Bonnie takes the stage)
Visiting with friends from all over the country and Canada that I only get to see a couple of times a year
New product announcements and sneak peeks!! I can't share all of them yet but be prepared to be WOWED!!
Hitting a career milestone of $900,000 in sales…guess what comes next?!?!
Susy Miller receives a stamping ovation as she is honored with the Heart of Stampin Up Award!! She has shaped the lives of so many demonstrators throughout her SU career. Susy continues to be an inspiration and a hero to so many as she battles ALS. We love you Susy!
My photo album of pictures from convention (click here)
Stampin' Up!'s Highlight Video
Look close, you may even find me in it – it's rare I make a highlights video!
---
TAMI'S SPECIALS
---
CONTACT TAMI