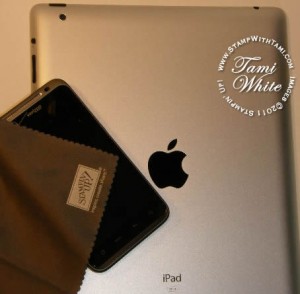 Tami's Tip: Clear Block Cleaning Cloths…more than meets the eye!
Taking a quick break from stamping to share an alternate use for our Clear Block Cleaning pads (121779). We all have strange quirks right? I'm ready to go public with one of mine…fingerprints on my cell phone touch screen! Stop laughing. I'm constantly wiping my phone on my pants to clean it, and it doesn't work that great. Then by accident one day I reached for the SU Clear block cleaning cloth, and it ROCKED! From clear blocks to your electronics.
This video shows how to use your cloths to clean the Stampin' Up Clear-Mount acrylic blocks, as well as how quick and easy these microfiber cloths clean the touch screens of your electronics such as your ipad (or any tablet), smart phone (iphone, etc), ipod touch and more. I love it when a product has more than one use! This tip is also a hint of where my next video inspiration came from (my kids favorite game)…and that's all I'm saying. Stay tuned for that fun card and soooo much more.
Join My Newsletter | Feedburner | Specials