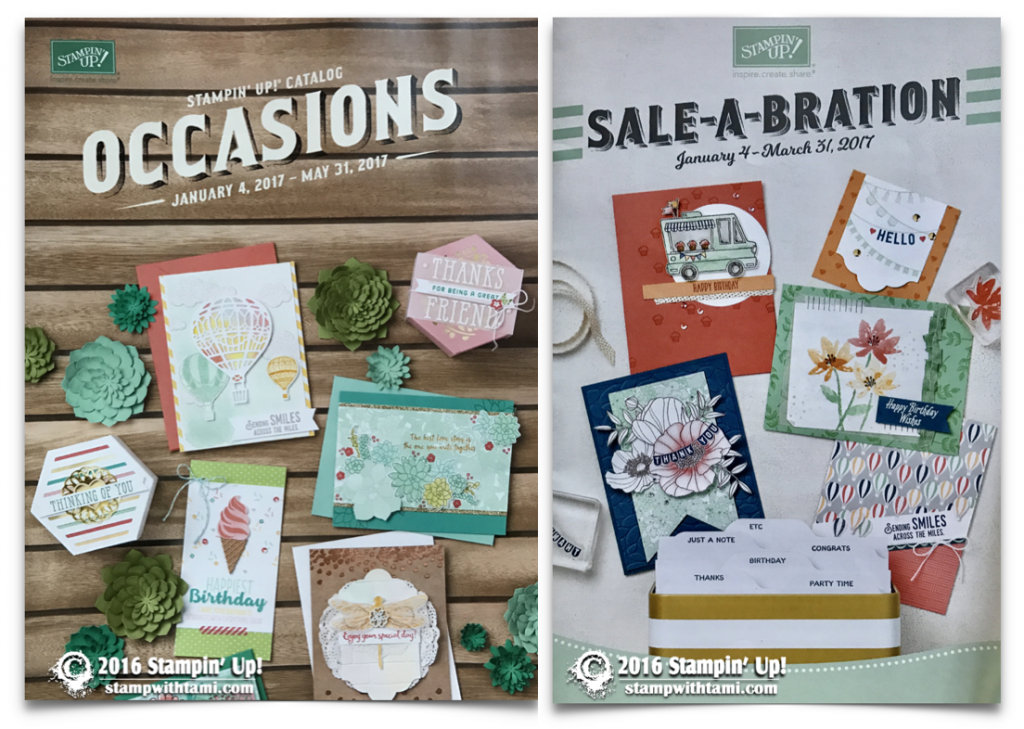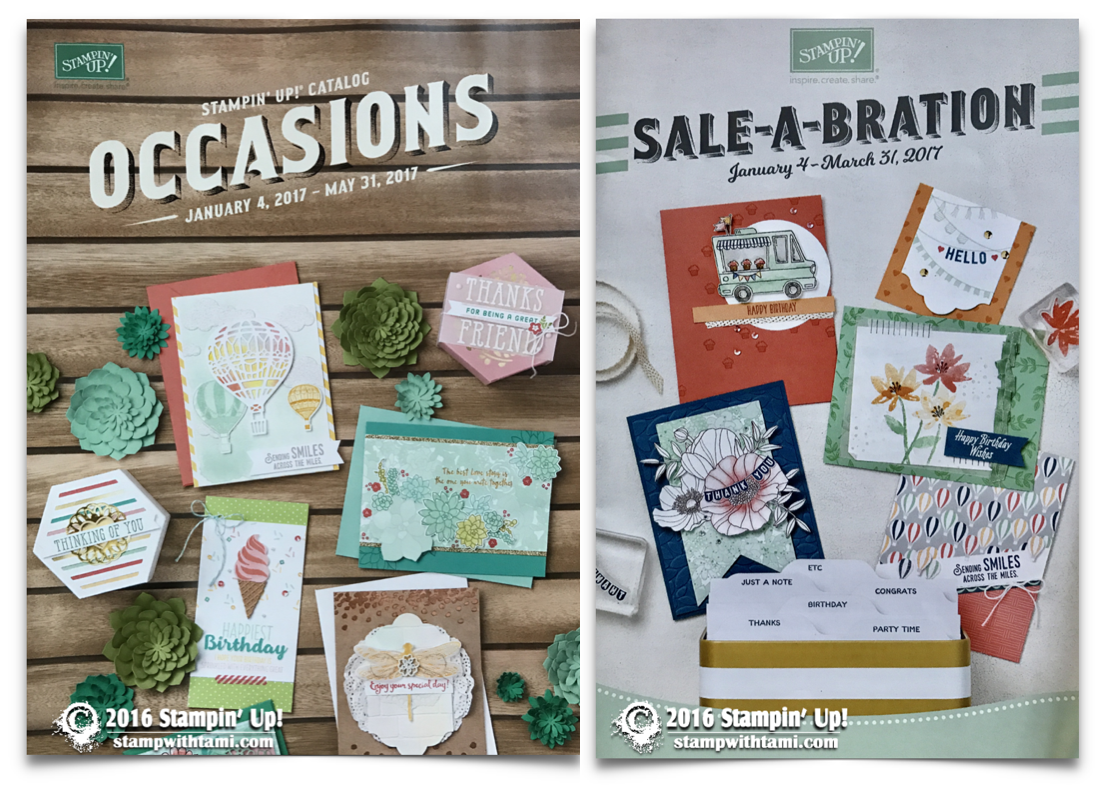 2017 OCCASIONS & SAB CATALOG PRE-ORDER

The new 2016 Occasions & Sale-a-brations Catalogs will be available to customers  September 1, 2016 – January 3

Demonstrators will able to start pre-ordering from these catalogs on December 1.  Details are on the demonstrator website. You can also get Occasions catalog products in your demo kit starting December 1! It's the BEST DEAL.
NEW CATALOG DEMO CARD SWAP
I'm hosting 2 separate card swaps, you can sign up for either or both. They are both due on December 30. here are the details:
PLEASE – read through ALL the rules and guidelines carefully and follow them! We will be receiving and sorting hundreds of cards and need YOUR help to make sure everything runs smoothly. Swap rules and sign up can also be found here: https://www.facebook.com/events/1419749644720133

HOW TO SIGN UP
There are 2 different swaps, click on the link below each and add your name and the number of swaps you will be doing for that category (example: Tami White x3 occasions) or (Tami White x 3 sale a bration) to join that swap. You may do a max of 3 of each. If you sign up for multiples each must be different designs.
OCCASIONS SWAP SIGN UP
1) 2017 Occasions Catalog 11 card swap of the same card design, you will receive 10 back. Sign up at this link:
https://www.facebook.com/events/1419749644720133/permalink/1419751734719924/
SALE A BRATION SWAP SIGN UP
2) 2017 Sale-a-bration 6 card swap of the same desgin, receive 5 back
https://www.facebook.com/events/1419749644720133/permalink/1419752271386537/
---
VIDEO
If you have never done a card swap with me before, here's a video from this past Holiday catalog swap. It shows how to package your swaps, and how the swap is done:
---
This swap is for CARD FRONTS
-All supplies/products MUST be current and pre-order Stampin' Up! merchandise with an emphasis placed on the NEW Catalog products. NO exceptions.
-NO retired, dormant or non-SU! product.
-All swaps should be designed for upsell opportunities with our clients – please use layering and accessories. These cards should be the kind that make our clients want to make it themselves.
-Please do your very best work, clean cuts, straight layers, evenly stamped solid images.
-You may sign up for up to 3 groups BUT you MUST make a different design for EACH group.
-A card front is a "post card" style 5-1/2 x 4-1/4″ front of a card used for ideas. You card may vary in size (for example 6×6). However, an ATC size and tags are not acceptable substitutes.
Attach or write your name and contact info (label) on the back of each card front. Supply lists and details are optional and always appreciated.
-All swaps MUST be in a Stampin' Up! clear envelope, ready to display upon receipt. If SU! doesn't sell the envelope, you may not use it. NO exceptions.
-Swap card designs MUST be exclusive to this swap
SWAPS ARE DUE to me NO LATER THAN FRIDAY, DECEMBER 30 NO EXCEPTIONS.
Any swaps received after that date will be returned unopened.
Mail them early to avoid last minute stress.
MAILING/POSTAGE INSTRUCTIONS –
1) Place each individual swap card front in a Stampin Up Clear Envelope:
http://www.stampinup.com/ECWeb/ProductDetails.aspx?productID=102619
2) Place each group of swap card fronts in a gallon sized zip lock bag.
IMPORTANT: Mark your NAME on each bag.
**Only include ONE Group of Swaps in each gallon ziplock bag.
3) You MUST include a SELF-ADDRESSED, POSTAGE PAID Return Envelope or Box, tracking number. Flat Rate Priority envelope is recommended, you can use click and ship labels on USPS.com.
***DO NOT require that your package be signed for.
ADDRESS WILL BE PROVIDED IN PRIVATE FB MESSAGE
---
NEW CATALOG DATES:
Nov 1 – 30 Mailing Selector
Nov 7: Occasions & Sale a ration catalogs online pdf for demos online
Dec 1: Holiday Catalog Retiring & carry over Lists comes out
Dec 1: Demonstrators can pre-order from the Occasions Catalog AND get free SAB w/ every $50 (plus discount)
Dec 1: New Recruits can get Occasions products in the demonstrator kit
When will I receive my new catalog
Demonstrators
Dec 1 – 11: Demonstrators will receive a free catalog w/ their 1st demonstrator order
Dec 12: Catalogs will mail to demonstrators who did not place a demo order between Dec 1-10
Customers: SU mailings begin December 12 (bulk mail) please allow up to 2 weeks delivery
---
HOLIDAY CATALOG CARD SWAP
10 Card swap, due August 26
I'm hosting a card swap that is open to all Stampin Up Demonstrators.  The pre-order begins May 3 for demos. Details can be found on the demonstrator website.