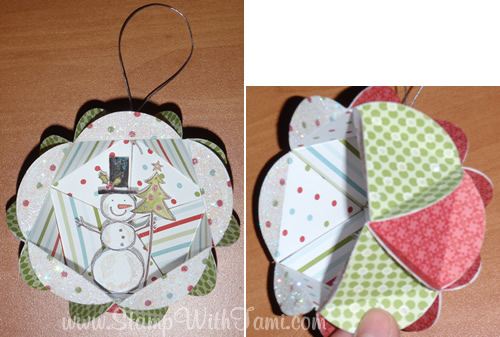 This is just too stinkin' cute! My downline, Beth Bartlett, made this out of the Star Bright Designer paper ornament kit and the Punch pals stamp set.
She made a little over 1/2 the ornament ball using the kit, then left the opening and sat the punch pals snowman inside. She used some of the silver cord from the Holiday mini to hang and dazzling diamonds glitter for an accent.
It really is a great ornament!

---
113681 STAR BRIGHT DESIGNER PAPER SERIES ORNAMENT KIT (SHOWN BELOW)
& Punch pals stamp set can be ordered online –
To order click here, then click SHOP NOW , (enter 113681 in search box for kit).
---
May 16-31 Must use hostess code:

U4BBBV6M
Capture the Good special offer kits, Free grab bags, Everything is Rosy Product Medley, Retiring List, New Catalog Pre-Order and more! Get it all in a demo kit and as a demo, and get a discount. For customers, everything but the pre-order is available in May. Details below.
TAMI'S TUTORIALS
Have you ever bought a stamp set just because you loved it, but then found yourself struggling for ideas and different ways to use it? You'll love my ordering gift tutorials, these Inspiration collections were created to help you. Earn them free when you use the hostess code on orders in my online store.
TAMI'S SPECIALS
QUICK LINKS
TAMI'S CALENDAR OF EVENTS * SPECIALS * CONTESTS & WINNERS CIRCLE
---