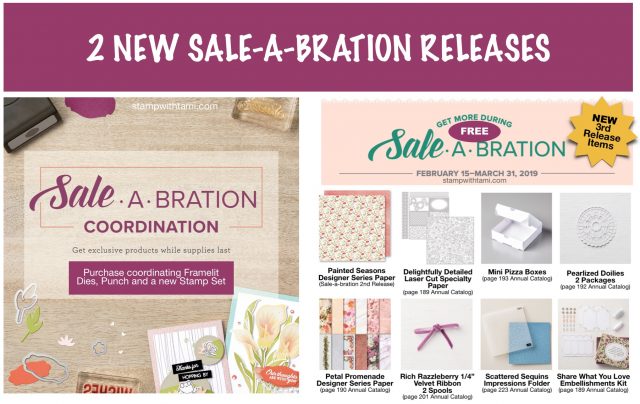 2 NEW STAMPIN UP SALE-A-BRATION RELEASES
This is the big day all SAB lovers have been waiting for. The Sale-a-bration coordination products are available for purchase in my online store. In addition to this, Stampin' Up has surprised us with a 3rd release of more free choices. Click here for more details on Sale-a-bration.
Just a reminder these products are "while supplies last" or March 31, which ever comes first. A few SAB items have sold out (see below).
You can get the SAB Coordination products in the Demosntrator kit this month too. The $175 for only $99 special (and free ship) ends March 31 as well. This is the last month of this amazing offer.  Details here.
TAMI'S SALE-A-BRATION GALLERY >
SALE-A-BRATION COORDINATION PRODUCTS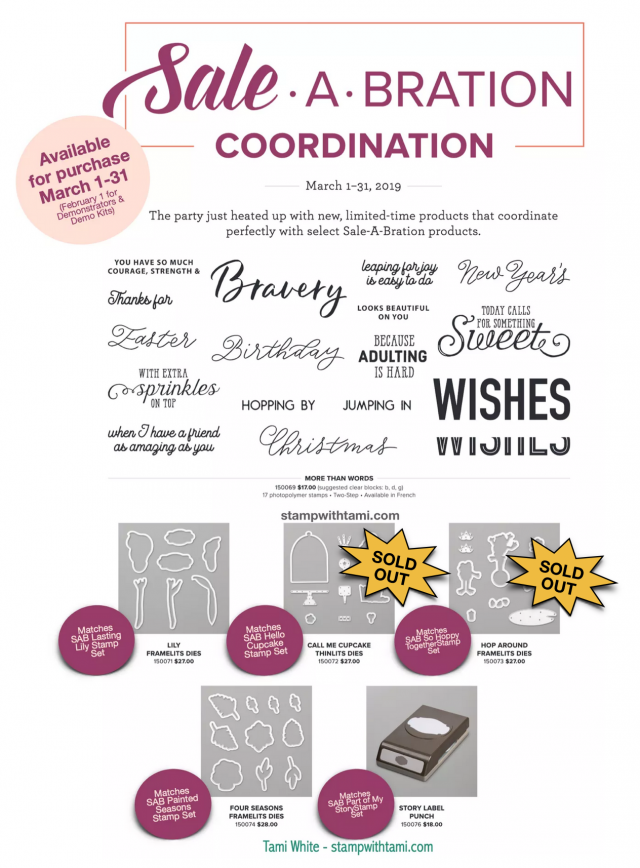 FREE SALE-A-BRATION 3RD RELEASE PRODUCTS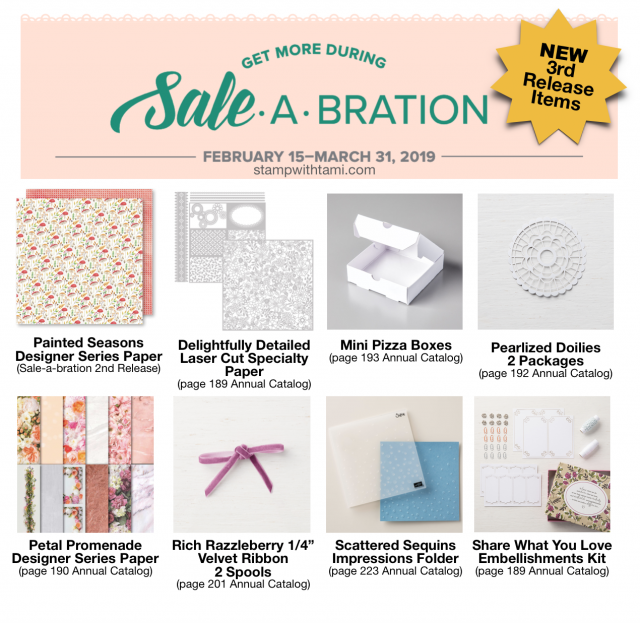 FREE SALE-A-BRATION 2nd RELEASE PRODUCTS

FREE SALE-A-BRATION PREVIOUSLY RELEASED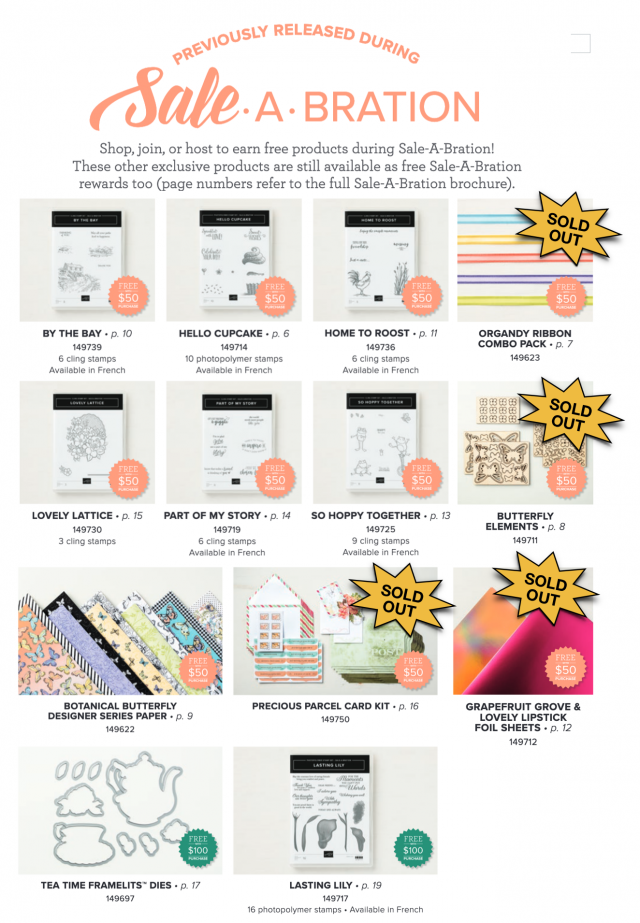 ---
WHAT IS SALE-A-BRATION?
January 3-March 31, 2019
The biggest Stampin Up sale event of the year! Customers (and Demonstrators) can earn free, exclusive products with every qualifying order. If your wish list is big, don't miss the demo kit special. It's the best!
Click here to see my Sale-a-Bration project gallery
3 WAYS TO EARN FREE PRODUCTS
SHOP ONLINE: For every $50 you spend (before tax and shipping), you get a FREE Sale-A-Bration product. For anyone who has enjoyed Sale-A-Bration in the past, we have an exciting new announcement for this year: We now have a new reward level, giving you  more flexibility and options for your free items.
Let's break it down:
If you spend $50, you get one free

level 1

product.
If you spend $100, you get one free

level 2

product, OR, you can choose two

level 1

items.
If you spend $150, you have the option to choose three

level 1

items or one

level 1

item and one

level 2

item.
JOIN STAMPIN UP: Get $76 free in your demo kit, anything you'd like (except SAB products but you'll earn those on your orders after and get a discount – win/win). That alone can value up to Plus free shipping on the kit and future discounts. BEST DEAL!!!!!
STAMPIN REWARDS: Orders, workshops, etc over $250 receive an additional $25 free Stampin Rewards.
Need a hard copy of the catalog?
Fill out the form on my
Catalogs & Resources page
to request your free Sale-abration catalog.
---
SALE-A-BRATION VIDEOS:
SALE-A-BRATION PRODUCTS IN ACTION
GET THE FULL SCOOP ON SALE-A-BRATION RELEASES
Video Chapters
Here are the chapters of this online class video in case you'd like to skip ahead to certain portions.
Intro: 2:30 Minutes
Live Prizes: 3:48 Minutes
What is SAB?: 6:25 Minutes
New Sale-a-bration Details: 9:43 Minutes
Product Reveals: 16:18 Minutes
New Product Card Ideas: 27:27 Minutes
Card Making: 37:22 Minutes
Live Prize Drawings: 44:09 Minutes
TAMI & LINDA'S MEGA REVEAL PART 1

TAMI & LINDA'S MEGA REVEAL PART 2

BOTANICAL BUTTERFILES DESIGNER PAPER

LOVELY LATTICE STAMP SET

GRAPEFRUIT GROVE & LOVELY LIPSTICK FOIL SHEETS

PRECIOUS PARCELS CARD KIT

TEA TIME FRAMELITS DIES

---
TAMI'S SPECIALS
---
CONTACT TAMI