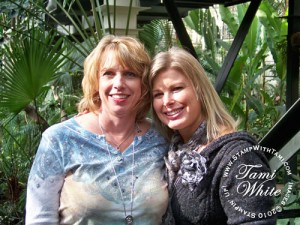 Yeah!! I finally made it to Stampin' Up!'s annual Leadership event in Nashville, TN this past week. If you are on my mailing list, you'll know from my past mailing that I was "grounded" when my flights were canceled due to a blizzard we had in Boston. I arrived at the event a day late, but I was able to jump right in and WOW what a time it was. I'm so blessed to have been able to attend at all (even if I missed part of it). I caught right up. SU really was amazing, every event just gets better and better. I have so much to share with you and with my SU demonstrator group (note to my gals…make sure you come to the meeting on Wednesday).
The event was held at the Gaylord Opryland hotel. What an amazing place. Here are some pictures of the hotel, with my friends Cheryl Flynn and BJ Peters.
And of course as with any stamping event, there are always great displays and ideas. Here are some display samples of the brand new Occasions Mini Catalog stamp set: Take a Spin (121937 wood, 122015 clear mount) and Game Spinner Hands (121893) shown in some very clever ways. Stay tuned for more.
Join My Newsletter | Feedburner | Specials
---
TAMI'S SPECIALS
November 18-30
---