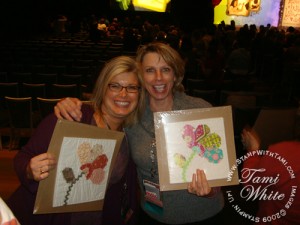 At Stampin' Up Leadership in Phoenix last week, there was an amazing display of quilts and other great crafts created by Jill Olson, Susan Adams and Janet Baker. These quilts (and I'll post more tomorrow) were created with our Big Shot dies and fabric. I'm told even non-sewers can make them, and send them out to be quilted (which intrigued me to no end!!).
Jill Olson was awarded Stampin' Up's Bright Idea award for bringing the stamping world to the quilting world! Did you know you can cut up to 8 peices of fabric at once on the Big Shot?! 
Then during the last general session everyone at Leadership was surprised with a handmade quilt square!!! This photo is Cheryl Flynn and I with ours. These were gorgeous! They were made by the workers at Stampin' Up's mfg plant in Kenab, UT. I almost cried when I heard that, as they must have made 1000 quilt squares. Amazing!!!
Here's a close up of my quilt square, it was made with the 114534 Flower Die:
The flowers on this quilt were created using
114534 Flower die
I think this quilt is my favorite, the photo doesn't do it justice. These are iron on photos of ancestors on the fabric. It uses:
114521 Frame, Oval Scallop
114523 Decorative Accents
This used a variety of different dies
This was another great one using the 1133467 Petal Card die as a flower
115950 Scallop Square die for the actual squares
This quilt even had a matching penant banner created with 113483 Stmapn' Up Pennant Die

Join My Newsletter | Feedburner | Specials
---
TAMI'S SPECIALS & QUICK LINKS
Weekly Hostess Code: SMQFEFKZ
STAMPIN REWARDS Orders over $150 automatically receive $15+ additional free bonus

CONTEST & GIVEAWAYS
  * 
WINNERS CIRCLE