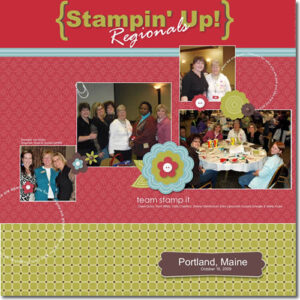 Last week some of my team and I went on a road trip to a Stampin' Up! Regional event in Portland, ME. One of my gals, Ellen, drove all the way from Maryland to meet us there!! I think she gets the prize the longest travel, and it was soooo worth it. We had the BEST time, it was so much fun. Swapping, stamping, laughing and gabbing.
I gave a "workshop wow" presentation, tomorrow I'll share a video tutorial of the technique and one of my presentation projects. It's pretty darn cool and super cute:)
This is a scrapbook page of some of our pictures I created in just a few minutes in My  Digital Studio. I am in love with this program, it's so easy to make super cool projects like this, that I may actually get caught up on my scrapbooking! Imagine that.
Learn more about becoming a demonstrator >
Learn more about My Digital Studio >