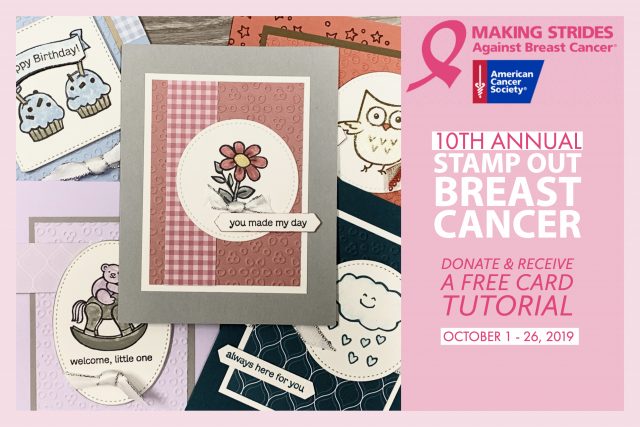 10th Annual Stamp Out Breast Cancer Fundraiser
Join us, OR simply make a donation
One of the many things I love about Stampin Up, is how we can use it to help others. Join me and our team of demonstrators and help us raise money for Making Strides Against Breast Cancer while having some stamping fun.
Help us meet our goal of $6,000!
A keynote speaker/survivor's once had some very powerful words. She said "Last year, I attended this event and was encouraged to go get a mammogram. You talked about the importance of early detection. I was diagnosed, treated, and today, I stand before you Cancer free, Thank you." Talk about changing lives!
All donations of $20 or more receive a free tutorial and entry to win one of our awesome Door prizes. Whether you attend or not. Please leave a comment below after donating and be entered into my bonus drawing (details below).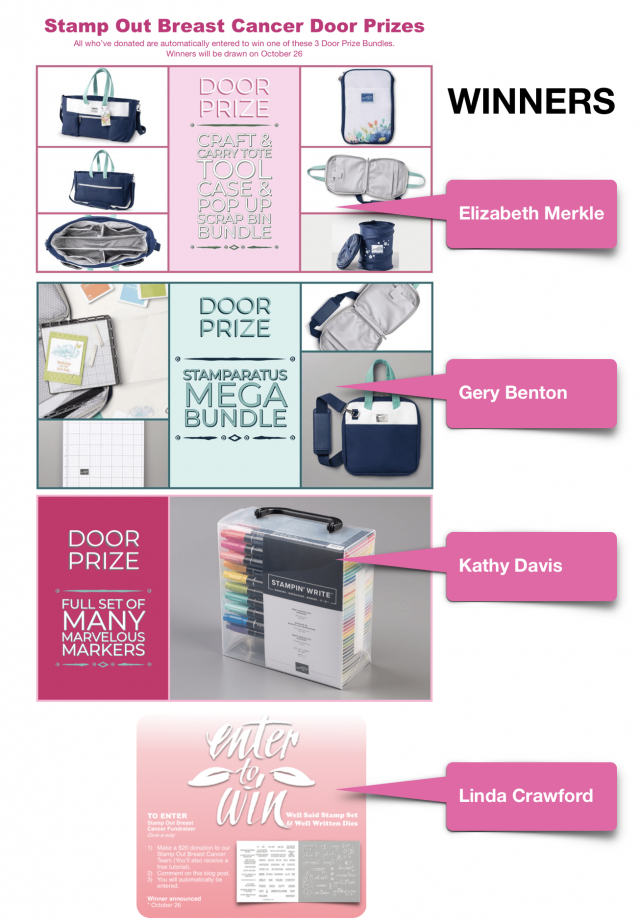 ---
2019 T-SHIRTS, HOODIES AND SWEATSHIRTS FOR A CAUSE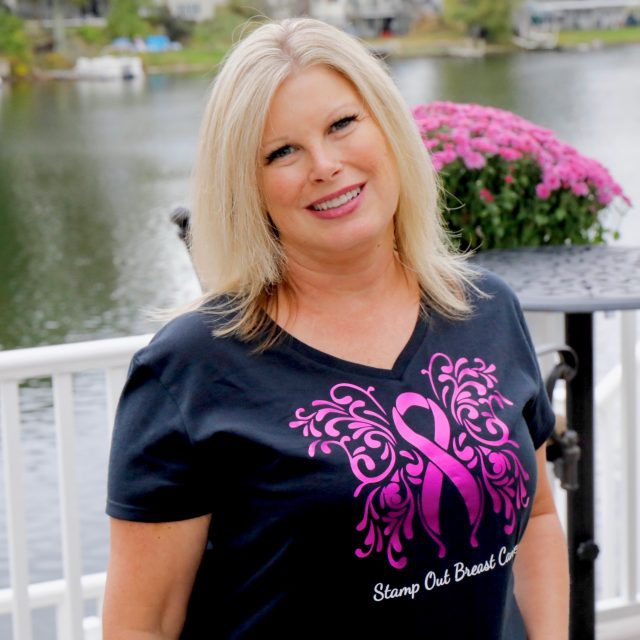 10% OF OUR 2019 METALLIC APPAREL PROCEEDS DONATED

My friend Tamra Davis made these, and she is donating 10% of each Sale to our Making Strides team. Purchase our 2019 Stamp Out Breast Cancer T-Shirts, Zip Up Sweatshirts and Hoodie Pull Over Sweatshirts here: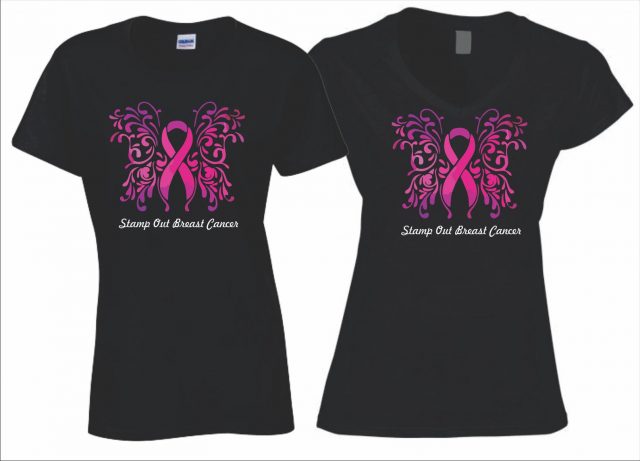 Order your Metallic Stamp Out Breast Cancer T-Shirt Here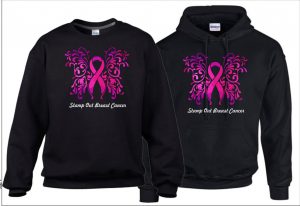 Metallic Pull Over Hoodie Stamp Out Breast Cancer Sweatshirts
---
GIVEAWAYS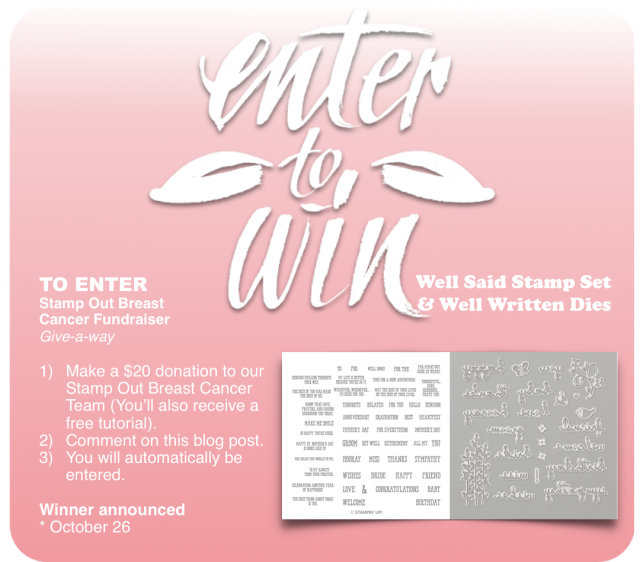 BONUS!!!! If you make a donation by October 26, and post below I'll enter you in a drawing to win a free Ribbon of Hope stamps and die set. Winner posted in my Winners Circle.
---
All donations of $20+ are invited to attend our stamping event in Dracut, MA. We know many of you aren't local and you don't need to attend for the free pdf, and door prize entry. If you happen to be in the area, we'd love for you to join us.
EVENT DETAILS
When: October 26, 2019
Where:
Harmony Hall
1660 Lakeview Avenue
Dracut, MA
1:00pm – 4:00pm
$20 Donation to attend thru Oct 26, or $25 at the door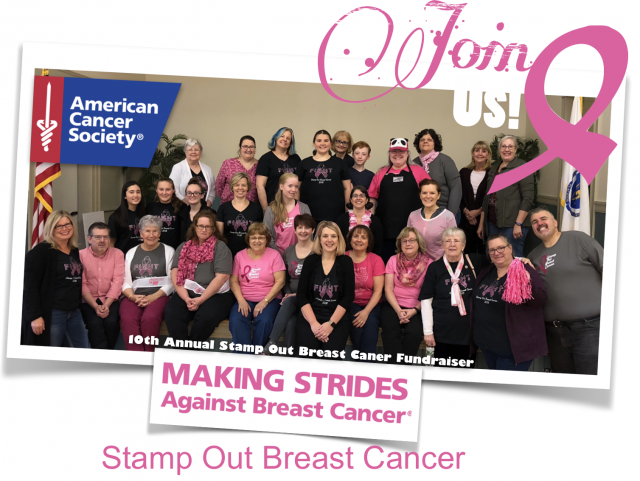 100% of the proceeds go directly to Making Strides Against Breast Cancer (part of the American Cancer Society)
ATTEND OR SIMPLY DONATE
Attend free with each donation of $20
Receive a Free Tutorial for these projects with your donation
Door Prize: All $20 donations are entered to win the following: Stamparatus Mega Bundle
Leave a comment below after donating and be entered into my bonus giveaway drawing
All donations are Tax Deductible and will receive an emailed "Donation Record"
EVENT ATTENDEES ALSO RECEIVE
5 Gorgeous cards
Door Prize: All $20 donations are entered to win the following: Stamparatus Mega Bundle
Many more Raffles
Card Swapping
Munchies
Inspirational Display Boards
---
VIDEO
---
TAMI'S SPECIALS
November 18-30
---