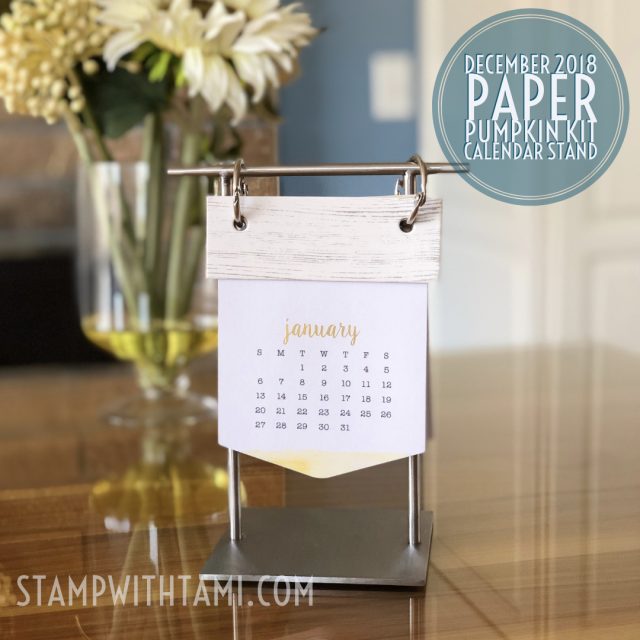 DAY BY DAY KIT
On today's Paper Pumpkin kit video, I'm doing something a little different. Instead of 2 videos for the December kit, I'm combing them into one – unboxing and alternates. I liked the calendar that came in the kit, but wanted it to stand up, so I found this stand online to display it on my desk. I have more details on both the kit, more alternate projects and where to get this display stand below. You can use the Table of Contents in the top right of this post for a quick jump, or scroll down.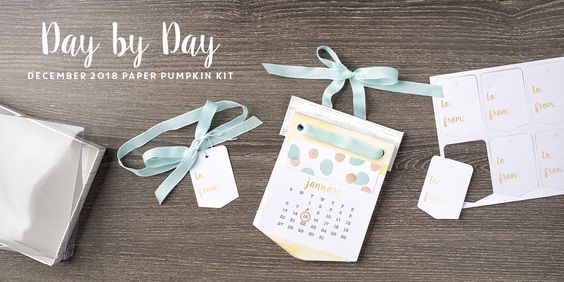 I'll be putting the kit together on this video live at noon today EST on Youtube and Facebook. You can catch it live, or watch the replay below.
Double Prize Patrol! Because I've combined the 2 videos into 1 for this kit only, I'll be giving away double the prize patrol. Woot! Double your chance, double your fun. Leave a message on the video to enter. I'll be drawing prizes for both live and replay viewers.
New this month – I now have downloadable stamp case inserts for September – December posted below. I will post these inserts each month with my videos.
BOTANICAL BUTTERFLY CARD
In addition to the kit, I'll also be sharing some fabulous Sale-a-bration projects from the Botanical Butterfly Designer Series Paper. I'll also be making a bonus project from the designer paper that you're going to love. I will be posting the free PDF of the card I make, and photos of the other card ideas I'm sharing on the video later today here (this link will be active after the class airs).
SALE-A-BRATION INFO & IDEAS

Paper Pumpkin meets Sale-a-bration – how to earn free SAB products with your Paper Pumpkin Kits:
I've also got some additonal bonuses for you on this video. I'll be sharing some inspirational Sale-a-bration projects creatd with the Botanical Butterfly Designer Series Paper. You can earn this paper free during Sale-a-bration with every $50 you spend in my online store. Paper Pumpkin 3-month,  6 and 12-month pre-paid kits qualify for free Sale-a-bration products.
Learn more about Sale-a-bration here.

JANUARY PAPER PUMPKIN KIT
This December kit has sold out sadly. Don't miss out on the next kit because Paper Pumpkin is going wild in January!
Do you love a simple solution for fitting creativity into your busy live? Or maybe you're new to paper crafting and looking for a place to start? Either way Paper Pumpkin is here to help! We designed our awesome subscription service to put you on a fast track to creativity with our easy-to-make kits.
January's month's Be Mine, Valentine kit combines everything you love about Paper Pumpkin-style treat packaging with adorable critter coordination in the popular Animal Expedition Suite! You don't need anything in the suite to make this kit, however the fact that it coordinates means we get more mileage out of the kit. We love options! Ot of the box this kit will make 24 adorable Valentine's treat packages.
Deadline to sign up for the January kit is January 10
CLICK HERE TO SUBSCRIBE
TAMI'S DECEMBER PAPER PUMPKIN VIDEO
STAMPIN' UP'S "OUT OF THE BOX" VIDEO
---
MORE ABOUT THE KIT & ALTERNATES
The Paper Pumpkin team has made an important discovery: Our customers LOVE, LOVE, LOVE calendars. So naturally (since we aim to please!) we asked our concept artist to develop the cutest 2019 calendar ever. She obliged, creating the perfect, banner-shaped monthly calendar that you can hang from the wall—at home or in your cubicle at work—using the lovely weave ribbon included with the kit.
We also give you TWO Classic Stampin' Spots in delicious Grapefruit Grove and refreshing Pool Party so you can stamp the white die-cut stickers and create your own topper for each month. If you're a super-nice crafter who plans to share this kit with a friend, we've included gold foil tags—one to tie to the clear box with baker's twine and some extras which you can use for holidays and birthdays.
Kit Features
Each Day by Day kit comes with 18 calendar pages, 1 printed gift box, 1 clear box lid, 1 printed chipboard backer, 1 sheet gold foil tags, 5 sheets white die-cut stickers, 3 yds. blue weave ribbon, and 1 yd. baker's twine. And don't forget the exclusive stamp set and Grapefruit Grove and Pool Party ink spots!
Alternate Uses
Stampin' Up!  concept artists really show off their mad skills when they make alternates for Paper Pumpkin—and we love seeing what they'll come up with next.
Do you love these projects?
To make the Fresh Start card, simply cut off the calendar banner tops and stamp using coordinating ink colors. (Or use whatever color you want! We won't judge.) Then, adhere the banner tops to the front of your card. Finish by stamping the greeting on the back of a remaining calendar piece, then punch it out using the Everyday Label Punch. Perfect card. No hassle.
The next project? It's genius: an adorable little easel for displaying each calendar month. And it's so easy to make. Just cut a piece of 4-1/4″ x 4″ cardstock and score at 1", 2″, and 3″. Use a pencil to mark where the banner lines up with the holes, then punch with an 1/8″ Circle Punch. Stamp the circle and oval shapes. Then fussy cut flower petals and leaves and adhere a Rhinestone Basic Jewel. Secure the calendar to the easel using Baker's Twine. So cute!
We made our last alternate project by repurposing the gift box into a handy, little storage container. To make the wide divider, cut cardstock at 2-1/2″ x 4-1/4″. Score at 3/8″, then move over 7/8″ and score. Move over 7/8″ and score once again. (You will have 3/8″ remaining.) To make a small divider, cut cardstock at 2-1/2″ x 2-1/2″. Repeat scoring above. Fold and adhere to box bottom using Tear & Tape Adhesive.
Coordinating Products
We've rounded up a selection of coordinating products especially for this month's kit. They're perfect for making the alternate products showcased above and can be found in one easy place on the
online store
.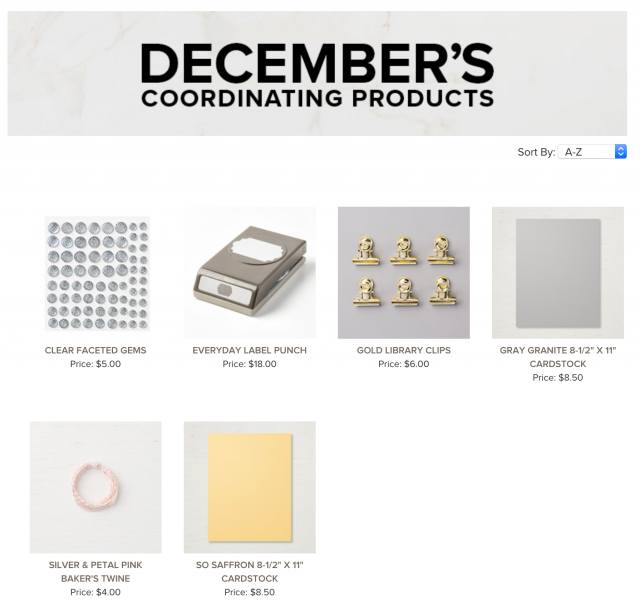 ---
TAMI'S CALENDAR STAND & CALENDARS
I got the calendar stand on Amazon, it was called the Barconic Flip Menu Stand.
PRINTABLE CALENDARS
If you don't have the December kit and wanted to make these flip calendars. You can customize calendars online at print-a-calendar.com. I wasn't able to find them this small by default, but you could manipulate these on your computer to print them smaller. Print them on card stock and cut them down. The size of the card stock on the kit calendars is approximately 4″ x 5″, but the stand is adjustable so could make them other sizes.
---
PAPER PUMPKIN STAMP CASE INSERTS
---
CONTEST GIVEAWAY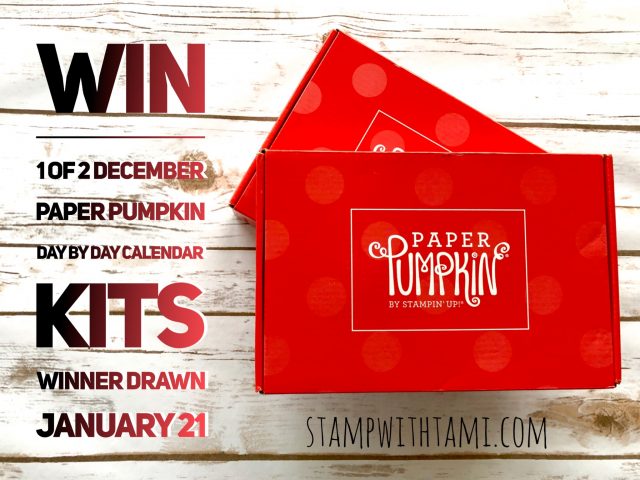 This is a video comment entry giveaway. To enter, simply click over to the video on Youtube and Facebook.and leave a comment. No purchase necessary.
Congrats to our live winners:
Darcy Dutton – December Paper Pumpkin Kit

Robbye Hamilton – December Paper Pumpkin Kit

Irene Foster Miller – December Paper Pumpkin Kit
Lynda Benden – December Paper Pumpkin Kit

Cheri Garnett Furr – December Paper Pumpkin Kit

Current Contests & All Winners announced on my WINNERS CIRCLE page
---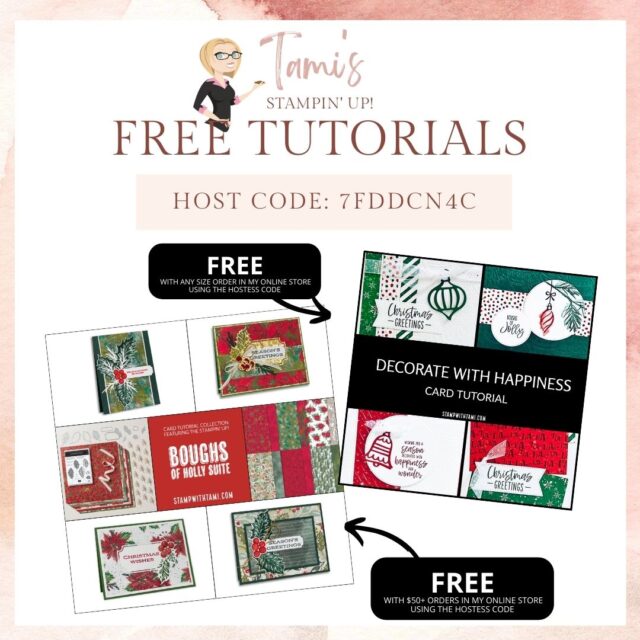 TAMI'S STAMPIN UP SPECIALS
October 1-15 for Free Tutorial Gifts & Specials
Must use hostess code:
7FDDCN4C
CURRENT PROMOTIONS
SHOP ONLINE