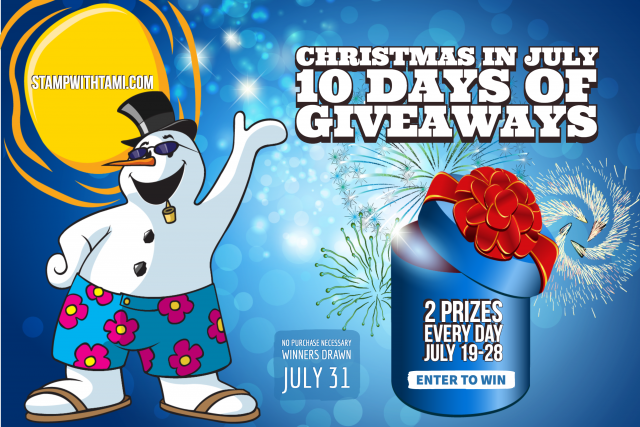 WINNERS REVEAL
The past 10 days I've been throwing a party for you and celebrating earning Stampin' Up!'s incentive trip to Alaska! The party is called my Christmas in July – 10 Days of Giveaways". Each day for 10 days I offered 2 giveaways for a total of 20 prize patrols.
WINNERS:
Marcella Wells – Day 1 Animal Outing Mega Tote Bundle
Tara Scyoc – Day 2 Tropical Chic Mega Tote Bundle
Holly Paulson – Day 3 Little Elephant Embossing Paste Tote Bundle
Joanna Yi – Day 4 Itty Bitty Greetings Pop Up Scrap Bin Tote Bundle
Mary Kay Harmon – Day 5 Time for Tea Mega Tote Bundle
Miriam Baker – Day 6 Painted Glass Mega Tote Bundle
Dina Johnson – Day 7 Varied Vases Embossing Paste Tote Bundle
Pat Smith – Day 8 Beautiful Promenade Mega Tote Bundle
Linda Calderon – Day 9 Stitched All Around Pop Up Scrap Bin Tote Bundle
Marcia Ecker – Day 10 Love What You Do Mega Tote Bundle
Jean Marmo – Day 1 Seasoned with Kindness Bundle Giveaway
Cheryl Flemming – Day 2 Artfully Folded Bundle Giveaway
Kat Langford – Day 3 Springtime Stroll Bundle Giveaway
Ellen Quintin – Day 4 Very Vintage Giveaway
Lillian Meyer – Day 5 Pressed Flowers Giveaway
Jessica Lundberg – Day 6 Dare to Dream Bundle Giveaway
Rebecca Buys Hansen – Day 7 Detailed with Love Bundle Giveaway
Summer Lemmon – Day 8 Enjoy Life Bundle Giveaway
Crystal Wilson – Day 9 Make a Difference Bundle Giveaway
Christine Chesney Shannon – Day 10 A Little Wild Bundle Giveaway
Today I'll be drawing all 20 winners live at 1pm EST, here's the fine print:
Winners will be drawn randomly via computer generator.
1 Prize per person. If a duplicate name is randomly drawn twice, the person will win the 1st prize, and I will re-draw a new name for the 2nd prize.
20 unique winners
Prizes must be shipped within the United States
Winners have 2 weeks to claim their prize
I will redraw new winners for unclaimed prizes on August 31
Winners announced on YouTube  , Facebook, my weekly Newsletter and my Winners Page.
---
TAMI'S SPECIALS
November 18-30
---