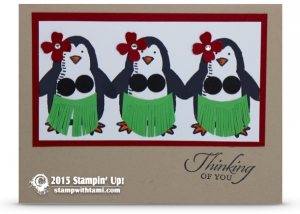 Today's video tutorial is for this adorbs Penguin Hula card. Complete with Coconut Bras and Grass skirts. Because the first thing you think of when you meet fringe scissors for the first time is Penguins in Grass Skirts…who didn't think that? j/k This video was a "Viewers Choice" card from my OnStage swaps. Designed by Joszette.
This card is sure to put a smile on your face. What could be cuter then Penguins doing the Hula? Except maybe a Penguin in antlers….or a Penguin in an Igloo??
Click on these other fun "Penguin series" Stampin Up Snow Place cards for details on each.
INSPIRATION SHEET PDF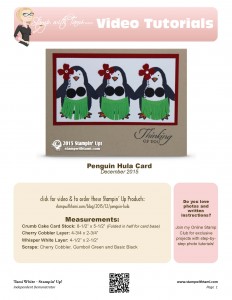 Penguin Hula card pdf includes
All supplies used
Includes measurements
VIDEO TUTORIAL
CARD SUPPLIES
---
TAMI'S SPECIALS
November 18-30
---