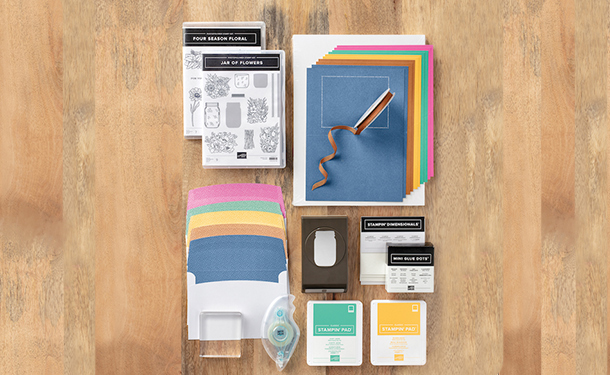 Q: What kind of incentives can I earn as a Stampin' Up! demonstrator?
A: Stampin' Up! offers so many benefits and incentives to demonstrators… here are a few:
Access to the Stampin Up Demo Website – packed with ideas, video trainings, webinars, techniques, tutorials and more.
Access to StampinConnection.com – Stampin' Up's exclusive online community for demonstrators only.
Make some Extra Dough – You can earn up to 40% commission on personal purchases & customer sales.
Free Catalogs every time they are released
Free magazine – Receive our Stampin' Success quarterly magazine – includes great tips & techniques!
Pre-orders & Sneak Peeks – new sets before they're available to anyone
** Demonstrators who've reached Bronze status will receive 25% OFF (or earn 25%) on ALL orders **
Q: Can I be my own Hostess (receive Stampin' Rewards)?
A: Yes, you can be your own Hostess anytime you have an order over $150. It can be all yours, a combination of your own personal purchases plus a few outside orders, or it could be all from customers, a workshop, etc.
Q: What is the Stamp It Demonstrator Group?
A: I'm so blessed to be the leader of such a great group of demonstrator friends, called Stamp it. I offer an online community for us to share, swap, and more. This is available not only to demonstrators who've joined directly with me, but to their recruits all the way down 3 levels! Here are a few perks you'll get from me as your upline:
Stamp It Demo Facebook Group

Fun, friends and family. This group is about sharing ideas both business and non-business demos from all over the country.

Exclusive video library and tutorials for demos in my group

New exclusive videos & tutorials added weekly
Plus archives that go back 6 years of exclusive videos and tutorials

Demonstrator Meetings

Online Demo Meetings
Local Demo Meetings

Free Monthly Class Planners / Tutorials
Bonus Incentives for achievements
Q: I'm not local, can I still join with you?
A: Absolutely, as long as you are in the United States. My demonstrator group spans coast to coast. My ideas, training, support and online community are available to all near and far. We have an amazing and VERY active Facebook group.
Q: What if I only want to do this as a hobby. Do I still have to have workshops?
A: Absolutely not!! Stampin' Up! supports the hobby demonstrator just as well as the career demonstrator. You can put in your own order or collect orders from family & friends.
Q: What are the minimum sales requirements?
A: You only have to submit $300** in sales per quarter to remain active. This "renews" you each quarter. You can drop anytime.
**$300 quota is based on "retail" sales, you receive 20% off for personal purchases and it still counts at the retail price.
Quarters run:
January – March
April – June
July-September
October – December
The quarter you join in is waived.
Your personal purchases count, plus any sales to friends/customers, etc all accumulate.
If you ever don't make a quota, you are not penalized. You would simply go inactive, and become a customer again. There are no "penalties" other than not getting the discount and bonus demo perks. There is no pressure.
Q: How do I join Stampin' Up?
Click on the Join Now image below to join Stampin' Up!
Read and agree to the Independent Demonstrator Agreement.
Purchase your Starter Kit. The online form will prompt you to choose your own products to create your own custom Starter Kit, allowing you to start your business, your way!
Q: I'm trying to sign up and it's asking me for a "Stampin' Rewards Starter Kit Code" what is this?
This is a code that a workshop hostess can use to transfer her Stampin Rewards to a starter kit. Unless you just hosted a workshop, or stamp club, you would not have a code and should click "no" code for this question.
Once you've completed the above steps, Stampin' Up! will send you a password so you can log in to the demonstrator Web Site where you'll find an abundance of tips, ideas, and training to help you. I will send you a welcome email with details for my Stamp It group.

– Tami White
Stampin' Up! Independent Demonstrator
Million Dollar Achiever

Stamp It Demonstrator Group Leader