Today's lesson is how to create these gorgeous boxes using the new Mini Project box downloads from Stampin Up. You don't even need the My Digital Studio program to make these stinkin' cool boxes, just the download from my store. Simply print off my instruction sheet, download the templates and you're on your way!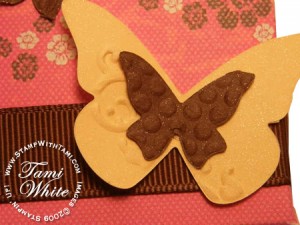 The instruction sheet gives step by step instructions on how to use and print your template on the computer (both My Digital Studio and MS Word instructions). Then the video demonstrates how easy it is to put your box together, once you've printed. We'll also be using the Fabulous Beautiful Butterflies Embosslit in the Big Shot to make the amazing, shimmery butterflies.
View video on Vimeo >
$1.95 – #120171 Mini Project Boxes Templates –
Order Online > Digital Crafting > My Digital Downloads > Newest Downloads (or click  #120171  in search box)
You can use this download in My Digital Studio, and also in MS Word or your favorite graphic programs.
STEP 2 – CREATE BOX
PRINT THESE INSTRUCTIONS >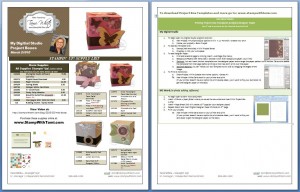 INSTRUCTIONS
Printing Project Box Templates & Digital Designer Paper
(you'll need to purchase the Box Template Download first)
My Digital Studio
1.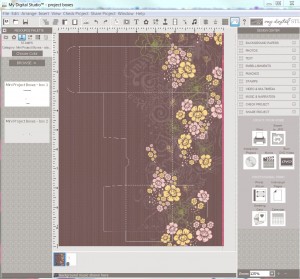 To begin open My Digital Studio program and click:
a.       New Project > Multiple Output Options > 8 ½" x 11" Portrait > Create Your Own
b.      (Name your project) > Blank Project
2.       To add Box Template click:
a.       Stamps (left hand side) > Mini Project Boxes
b.      Drag Box 1 into your workspace
3.       To add Designer Paper:
a.       First add a second page by clicking Insert > Add Page (top menu)
b.      Background Papers (left hand side) > (Choose which ever background paper you'd like)
c.       Optional: You can insert the box template over the designer paper and arrange the paper pattern to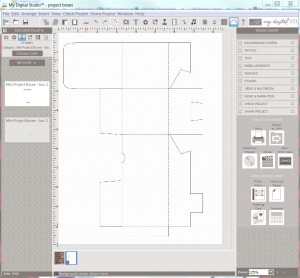 fit the box. Be sure to delete the template from that page before printing so the lines don't print over the paper.
d.      Optional Resizing: you can resize your box template to any size by dragging the edges of the image.
4.       To Print at home click:
a.       Share Project > Print (create from home option) > Select All
b.     Add Whisper White Card stock to your printer and print
(if your printer doesn't have an option to print double sided, you'll want to flip your card stock to get the Designer paper on the back)
MS Word (or photo editing software)
1.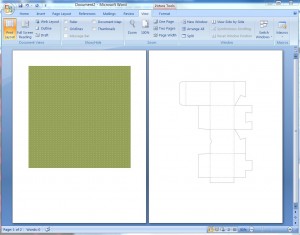 To begin open a blank Word Document
2.       Insert > Picture > (open folder where you saved the download and insert Mini Project Box 1.png)
3.       Insert > Page Break (this will create a 2nd page for your designer paper)
4.       Repeat Step 2 and insert Digital Designer Paper of choice on 2nd page
5.       Print your project:
a.      Add Whisper White Card stock to your printer and print
(if your printer doesn't have an option to print double sided, you'll want to flip your card stock to get the Designer paper on the back)
Learn more about

My Digital Studio Software >
Purchase

My Digital Studio Software online >
Check out the MDS Demo Starter kit special >

Join My Newsletter | Feedburner | Specials
---
TAMI'S SPECIALS & QUICK LINKS
Weekly Hostess Code: SMQFEFKZ
STAMPIN REWARDS Orders over $150 automatically receive $15+ additional free bonus

CONTEST & GIVEAWAYS
  * 
WINNERS CIRCLE