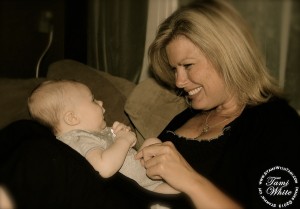 Ever had one of those times in your life when it feels like a dark menacing cloud is following you around and dropping big storms, one right after another. The past month has been one of those times for me, and I'm struggling with it but it's had some moments where the sunshine peaks through. For example, I had a little "baby therapy" over the weekend in the form of finally getting to meet and hold my 3 month old nephew for the very first time! It's been killing me that I live in Massachusetts, and my sister and her family are in Alabama. Here's a picture of us, I miss him already, our time together was too short.
I'm on the edge of shaking this cloud of bad fortune for good…and letting the sun shine through with another exciting moment. I'm about to hit a HUGE milestone in my Stampin' Up career. So close I can taste it, but I need your help to get there. I'm "inches" away from hitting ONE MILLION DOLLARS in personal sales!!!!!!
In Stampin' Up!'s 25 year history, only 3 legendary people have ever hit this milestone. My 10 year anniversary is September 11, and I'm dreaming of becoming the 4th person in SU History to hit this mark on or before my 10 year anniversary.
I can't thank you all enough for all of your support over the past 10 years, even if you purchased the smallest of orders from me…you were a part of making this happen. Stay tuned.